From our sponsors: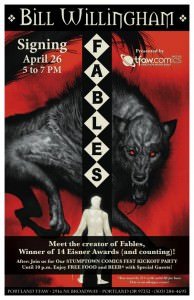 Bill Willingham Signing
April 26, 2013
5-7 p.m. | FREE | All Ages
Facebook event
Things From Another World
2916 NE Broadway St.
Portland, OR 97232 | More Info: www.tfaw.com
It's no fantasy: writer Bill Willingham visits the Portland TFAW April 26 from 5 to 7 p.m. to sign his multiple Eisner Award-winning series, Fables! Meet the man behind Vertigo's long-running, legendary series: copies of Fables comics, trade paperbacks, and hardcovers will be available for purchase.
SIGNING POLICY: Get anything purchased at TFAW (with receipt) signed! Outside items (not purchased at TFAW) limited to three per customer.
Immediately after the signing, segue into the Stumptown Comics Fest Kickoff Party from 7 p.m. until ??? Stumptown Comics Fest, the Northwest's most respected independent comic book convention, takes place April 27 and 28, and TFAW is proud to start things off in style. Meet and mingle with special guests from the Fest, enjoy free food and beer (21+ with ID), and enjoy a night of conversation, nerdery, and music!
In addition to this fantastic signing, Things From Another World is a proud sponsor of Fabletown and Beyond, Bill Willingham's Fables-centric convention, which will take place March 22-25 in Rochester, Minnesota. TFAW is personally sponsoring guest Adam Hughes (Fables, Wonder Woman, Star Wars). For more information, visit FablesCon.com.
Starring classic characters like Snow White, the Big Bad Wolf, and Pinocchio, Fables is a darker, dramatic reinterpretation of a wide variety of figures from fairy tales and folklore. The winner of 14 Eisner Awards (and counting), millions of readers can't get enough of Bill Willingham's vivid imagination and masterful storytelling. Don't miss this special event at the Portland TFAW April 26!