From our sponsors: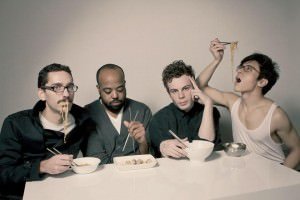 Shy Girls w/ Sapient, Magic Fades, Sex Life DJs
April 13, 2013
8:30 p.m. | $8 adv, $10 day of show | 21+
More Info & tickets at www.souldoutfestival.com
Holocene
1001 SE Morrison St Portland, OR 97214
(503) 239-7639 | More Info: www.holocene.org
Shy Girls is an R&B experience out of Portland, Ore. Producer and vocalist Dan Vidmar came to Portland several years ago by way of Pennsylvania, taking a loft apartment in the city's inner Eastside industrial district. Working a day job at an emergency room, he'd return to the loft and craft his sultry, seductive pop R&B into the mystical pre-dawn hours. In late 2011, the "Shy Girls EP" surfaced on BandCamp: a four song collection remarkable for its irresistible grooves, clean production, and the immediacy with which its creator's soulful vocal crooning turns listeners into empathizers.
The source of the project's soul is satisfyingly difficult to pin down – Vidmar pulls unabashedly from a wide range of pop influences. We find the bedroom eyes of late '90s boy bands shining dewily upon these tracks, with a New Jack Swing vibe giving them attitude and grit. They also boast a certain proficiency for testifyin' that reaches further back in time, to Motown funk maestros like Marvin Gaye and Smokey Robinson.
We're experiencing a fantastic moment in pop culture for those both filled with nostalgia and fascinated by the possibilities of digital technology. in that sense, Vidmar will utter no complaints in being affiliated with the rising tide of young contemporary R&B artists. Yet Shy Girls is not to be reduced to one in a herd of laptop artists endeavoring pop pastiche. What sets Shy Girls firmly apart is the live experience. Vidmar has assembled a 7-piece band to realize every element of the music in its most authentic form. Live in concert, Shy Girls transcends its status as a solo moniker, and becomes a band of voices shouting "Hallelujah," joyfully making believers out of their audience.
The roster features Noah Bernstein (the saxophone god of tUnE-yArDs), backing vocalists Matthew Flowers (Feist, Chilly Gonzalez) and Jeni Wren, Akila Fields and longtime best friend Ingmar Carlson on keys, and drummer Dan Sutherland. Though less than a year into their tenure, this commanding band is already garnering significant attention, frequently lauded by local press as one of the best live acts in town. Their genuine warmth and exceptional showmanship has them poised for greatness, with a seamless fusion of pop R&B relevance and the undeniable appeal of classic Soul and Funk.