From our sponsors at Soul'd Out: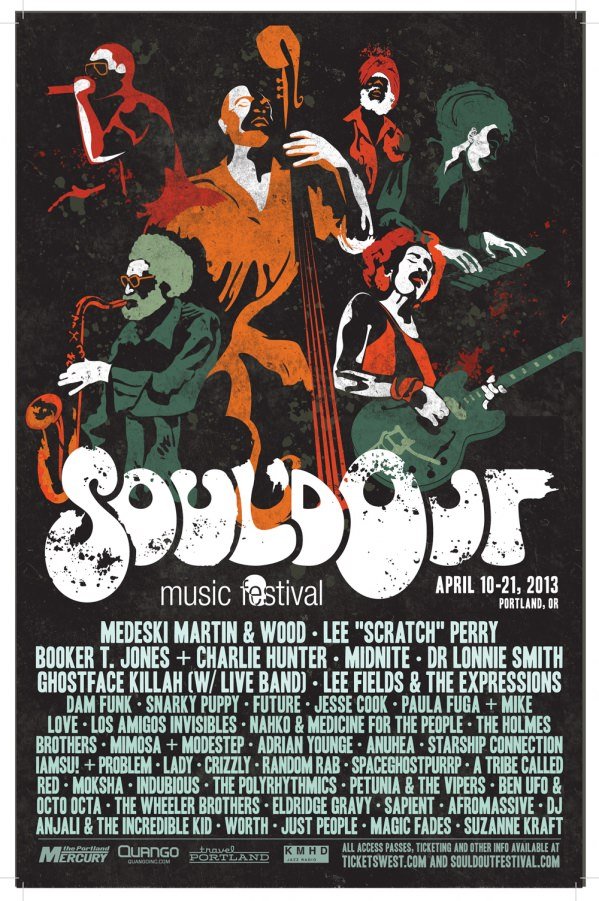 2013 Soul'd Out Music Festival
April 10-21, 2013
Full schedule of events + tickets at www.souldoutfestival.com
Soulful, uplifting music, re-created in the live setting, is one of the most healing and profound means of expression humanity has. This music is one of the most effective tools of bringing about positive social evolution. We offer this festival as the beginning of a new movement towards realizing music's inherent healing and transformative qualities, and as a means of applying these qualities directly in our ever expanding community.
The fourth annual Soul'd Out Music Festival will take place over 12 days, throughout more than 10 of Portland's most prestigious venues. Featuring artists from across the musical spectrum, SOMF brings them all together under the banner of soulful music. Because, Soul music, unlike any other, has the unique ability to unite us across perceived differences in race, culture or generation.
You can purchase tickets to any individual show by following this link, clicking on the artist who's show you would like to attend and following the Tickets link.
2013 Soul'd Out Music Festival Line-Up
Ghostface Killah w/ Live Band
Mississippi Studios – 4/10
Jesse Cook
Aladdin Theater – 4/10
Anuhea
Doug Fir – 4/10
Dam Funk w/ Starship Connection
Star Theater – 4/10
SpaceGhostPurrp
Peter's Room – 4/10
Future
Roseland Theater – 4/11
Snarky Puppy w/ Afromassive
Dante's – 4/12
Holmes Brothers
Mississippi Studios – 4/13
Just People
Dante's – 4/13
Booker T. Jones + Charlie Hunter
Dante's – 4/14
A Tribe Called Red w/ Dj Anjali & The Incredible Kid
Holocene – 4/16
Mimosa w/ Modestep
Roseland Theater – 4/16
Wheeler Brothers
Mississippi Studios – 4/17
Medeski, Martin & Wood
Roseland Theater – 4/18
Nahko & Medicine For The People, Paula Fuga & Mike Love and Worth
Star Theater – 4/18
Petunia & The Vipers
Mississippi Studios – 4/18
Lee Fields & The Expressions
Star Theater – 4/19
Midnite
Roseland Theater – 4/20
Los Amigos Invisibles
Star Theater – 4/20
Random Rab
Refuge – 4/20
Dr. Lonnie Smith
Star Theater – 4/21
Lee "Scratch" Perry
Refuge – 4/21
———————————————-
Related Portland Soul'd Out Events and Info: