Portland's First Thursday event is this evening! There are sure to be thousands of people roaming NW Portland. There are over 50 (probably 100) galleries having openings this month, with most openings taking place in the Pearl district and Old Town/China Town. Most gallery openings begin at 5PM or 6PM and end at 9PM or 10PM.
We have a very large list below thanks to Sequential Art Gallery (328 NW Broadway). They compile an email called the "[h]IT LIST" of events every month. You can join it by emailing them @ sequentialart @ gmail dot com. We have reproduced much of it below with permission.
Are you on the Twitter? Follow @FirstThursday or the #firstthursday hashtag to see what people are posting about it. You can also follow Sequential art on twitter: @sequentialart
FREE PORTLAND: We give out 100s of $$$ in free tickets every week including to many of the top music and art venues in Portland. Join our email list if you like free stuff
————————————

Related Portland Events & Info:
————————————————
This Month at Sequential Art Gallery:
From our partners: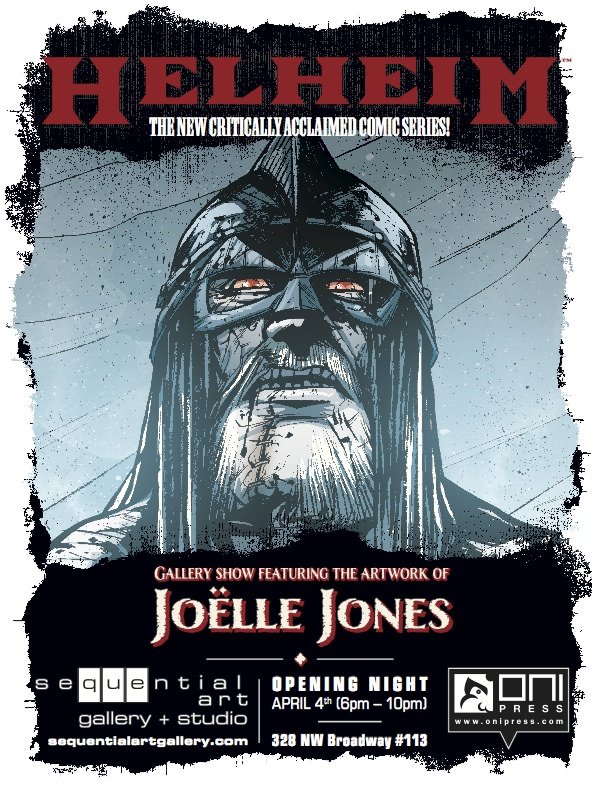 April First Thursday Art Opening: The Art of HELHEIM
April 4, 2013
6-10 p.m. | FREE | All Ages
Sequential Gallery
328 NW Broadway Portland, OR 97209
(503) 916-9293 | More Info: www.sequentialartgallery.com
Sequential Art Gallery proudly presents the Art of "HELHEIM", by Joëlle Jones. Sponsored in part by publisher Oni Press, and comic book retailer Bridge City Comics, Jones will be displaying original pages and variant cover art from her new series "Helheim", written by Cullen Bunn. The exhibit opens this Thursday, April 4th, with the artist's reception from 6pm to 10pm. Copies of "Helheim" #1 will be available for purchase.
Set in the late 6th Century, "Helheim" blends vikings, witchcraft, and undead monsters into a deliciously violent and horrifying mystery. Following her work on DC/Vertigo's "Madame Xanadu" and Dark Horse's "House of Night", Jones is no stranger to the fantasy genre. With "Helheim", Jones is producing the finest work of her career. In the recently released first issue, Jones expertly depicts the cold northern lands of the vikings, as well as the gore and mayhem of fierce battle, all with her recognizable-yet-clearly-evolving drawing style.
——————————–
EVERETT STATION LOFTS & Neighbors
625 NW Everett & 328 NW Broadway
GBD ARCHITECTS [1120 NW Couch, Ste 300] – "Shared Discoveries", paintings by Linden, curated by Jennifer Porter (Chroma)
CARAVAN PACIFIC [1720 NW Lovejoy] – art by United Thread, Kevin Poest and new lighting designs.
——————————–
Our Portland Events App for PDX Pipeline is now available for iPhones, Android phones and iPads!
Now, you can have all of the great Portland Events from our website in the palm of your hand when you're out on the town. We have also added live happy hours, concert schedules and movies times to help you plan a fun night out in Portland!
——————————————————–