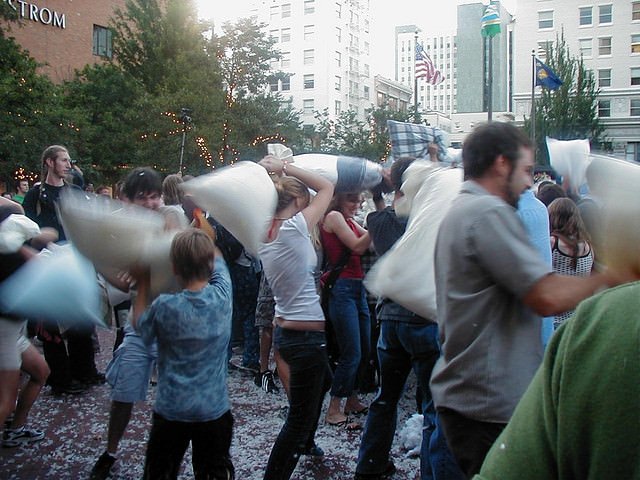 Photo by Jami Dwyer on Flickr
Hundreds of people will gather in Portland's Pioneer Square this Saturday to participate in International Pillow Fight Day. This is largest pillow fight you will ever see in Portland so rock those flannel pajamas and have some fun!
——————–
Related Portland Events and Info:
———————————————-
Portland Pillow Fight Pictures, Video, and 2013 Info:
2013 International Pillow Fight Day in Portland
April 6, 2013
3-5 p.m. | FREE | All Ages
More Info: 2013.pillowfightday.com/events/3481/portland-oregon
Facebook event
Fight softly and carry a big smile as you join 30+ cities around the globe in a massive pillow fight of delight. Rock your flannel zebra jammies and assemble your slumber party teams at the Living Room of Portland, Oregon.
* * * At 3p there will be a countdown from 10 to 1 at Pioneer Square. * * *
Then, the pillow battles begins!
Rules:
– Soft pillows only.
– Swing lightly, carry a big smile.
– Do not swing at people without pillows or with cameras.
– Remove glasses, earnings, etc. before beginning.
– The event is free and appropriate for all ages, so watch out for little ones.
– Please consider the environment; no feather pillows please!
2007 Portland Pillow Fight Video Part 1
2007 Portland Pillow Fight Video Part 2
2007 Portland Pillow Fight Video Part 3
2007 Portland Pillow Fight Video Part 4

2007 Portland Pillow Fight Aftermath by PDX Pipeline