From our sponsors at Thirsty Lion: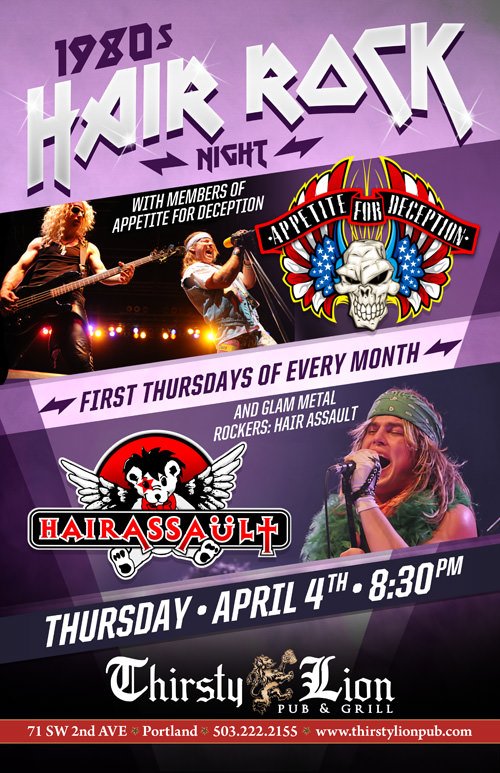 First Thursday 80s Hair Rock Night
Thursday, April 4, 2013
8 p.m. | 21+
Thirsty Lion
71 SW 2nd Ave Portland, OR 97204
(503) 222-2155 | More Info: www.thirstylionpub.com
Break out your spandex, leg warmers, and mini skirts and come down to the Thirsty Lion on Thursday, April 4th at 8pm for our monthly 80's Hair Metal Night. Featuring 2 of the greatest ensembles in Glam Rock history – Hair Assault and members from Appetite for Deception. Performing some of the greatest 80's rock songs and ballads from bands like Guns & Roses, Motley Cruë, Bon Jovi, and many more!
Live Music at the Thirsty Lion this week:
Tuesday, April 2nd • 8pm:
Portland Singer Songwriter Showcase
Every Tuesday night Portland's best singer songwriters showcase their skills, stop by for great beer, food and music! Our finals show will be on Tuesday, April 30th! Check out some of Portland's best singer songwriters all night long!
Wednesday April 3rd • 8:30pm:
Guy Dilly & The Powers (aka Jordan Harris)
Imagine if John Mayer, Queen, and Neon Trees sat down and had a jam session. Guy Dilly & The Powers bring all that and more every Wednesday night at the Thirsty Lion. Come check them out!
Thursday, April 4th • 9pm:
First Thursdays 80's Hair Rock Night
Friday, April 5th • 9:30pm:
Reverend Hammer
Whether you're into the 70's funk stylings of Stevie Wonder or like to tear it up with the modern beats of Franz Ferdinand, Reverend Hammer lays down the right mix of dance-addictive songs for any party or event. From the versatile rock guitar depth and vocal power of front-man Elijah Johnson to the solid grooves of bassist Brian Powell and the enticing syncopations of Josh Baruch, it's hard to resist racing to the dance  floor! Reverend Hammer' charm, wit and looks warm even the toughest crowds, and the band's song diversity wins them over completely
Saturday, April 6th • 9:30pm
First Saturdays with Brian Odell & DJ Soulshaker
By mixing the tried and true formula of the singer/songwriter with infectious drum rhythms, funky yet melodic bass lines and the fresh flavor of turntables, steel drum and percussion, The Brian Odell Band is in a genre all it's own. You're sure to find something you love about the sound and style of a band that is truly unique in the Portland music scene.
View our complete live music calendar here: http://www.thirstylionpub.com/portland/live_music