Photo by Brewcaster.com
Beautiful pic from Brewcaster during last year's Oregon Tulip Festival. The 2013 Wooden Shoe Tulip Festival festival kicks off this Easter weekend. It's just a 45 minute drive from Portland in Woodburn. There are over 1 million tulip bulbs as well as daffodils, with over 145,000 yearly visitors. According to the website, this is the perfect time of year to take pictures of row upon row of tulips. This weekend's weather forecast is showing  70s and sunny, so that's pretty hard to beat! The festival ends on May 5th, so enjoy it while you can.
——————————–
——————————–
2013 Tulip Festival Info, Schedule & More Pictures: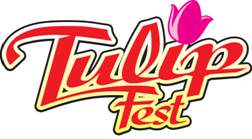 2013 Wooden Shoe Tulip Festival at Iverson Family Farms
March 29 – May 5, 2013 |  9AM – 6PM daily
33814 South Meridian Road, Woodburn, Oregon 97071
More info: www.woodenshoe.com
Wooden Shoe Tulip Festival near Woodburn
Opens March 29 – Oregon's Largest Spring Event

Nearly one million tulip bulbs were planted last fall and will be ready to explode this spring at Iverson Family Farms. It is the 27th Annual Wooden Shoe Tulip Festival Presented by Silverton Health near Woodburn, March 29 through May 5. Over 145,000 people are expected to attend Oregon's largest spring event.  They find a whole range of family activities once they arrive on the Festival site.
Festival goers will find acres and acres of colorful tulips and daffodils in various stages of bloom. Attendees can monitor the amount of color in the field by checking the event's website at www.woodenshoe.com…with extended field hours during peak bloom. The festival's on-site Display Garden will offer an array of over 120 varieties of tulips for visitors to see and to order.
Also, a must see at the Wooden Shoe Tulip Farm is the Dutch themed Gift Shop which is packed with gifts for garden and flower lovers.  The Gift Shop is open before, during, and after the Festival, March 1st through May 5th.  Next door to the Gift Shop is the Country Store filled with garden accessories, wooden shoes, and fresh flowers.  Visitors can also enjoy the Cow Train, Ducky Races, tram/hayride to the outer field, photo cut-out boards, great food and refreshments, live performances, and a crafters market.
——————-
Other weekend activates throughout the Festival include:
A Crafters Market, wine tasting, wooden shoe demonstrations from a real craftsman, steam tractor demonstrations, You Pick Tulips, Jump Houses by Madjek ($3 – $7), Kids Thrill Rides ($5)* Mexican food booth(Prices Vary)
 March 30th Easter Egg Hunt 10am & 12 noon In the Wooden Shoe Garden (Age Groups: 0‐2, 3‐4,5‐6,7‐8, 9‐11)
 March 31st Easter Sunrise Service – 7 am Near the tulip fields.
April 6th  Tip Toe through the Fields – Ukulele playing in the tulip fields
 April 13th Silver T Club – 10am – 2pm  – Collector cars from a bygone era
April 17th & 18th Pro Photo Macro Class – Register online for more information
April 19th & 20th Shutterbug Photography Class – Register online for more information
April 20th Puppy Guide Dog Training: 12 noon – 3pm –  Current Puppy Trainers will be around to answer questions about raising dogs
April 27th & 28th Wine Down 9am – 6pm –  Wooden Shoe Gardens: local wine, beer, and Chicken BBQ
Admission: Daily (including weekends) – $5 per bike or motorcycle, $10 per carload daily, $20 per buses everyday
Directions: Take the I-5 freeway to the Woodburn exit 271. Travel east towards Molalla on Hwy. 211 for 6 miles to the flashing yellow light at Meridian Road. Turn right (south) on Meridian Road and travel two (2) miles. The entrance to Wooden Shoe Tulip Farm is on the left. (See website for alternative directions)
———————————–
Our Portland Events App for PDX Pipeline is now available for iPhones, Android phones and iPads!
Now, you can have all of the great Portland Events from our website in the palm of your hand when you're out on the town.
————————————————————————-
More Tulip Festival Photos

Photo by SarahMcD

Photo by ZnE's Dad

Photo by Brewcaster.com

Photo by Brewcaster.com
———————