From our sponsors at Thirsty Lion: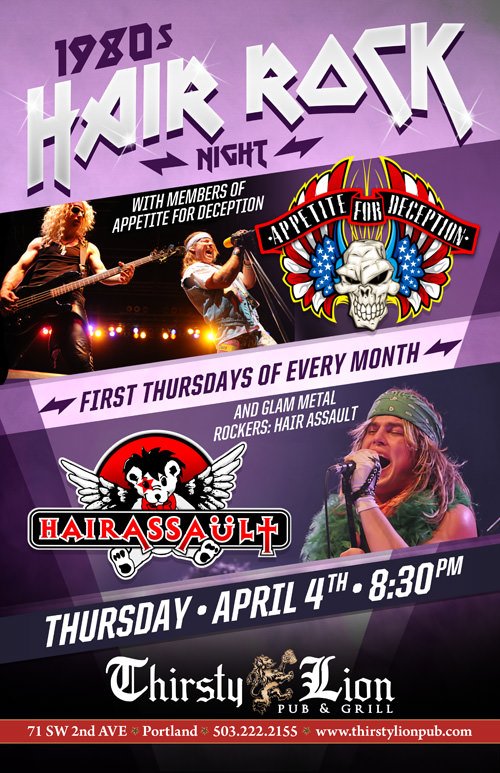 First Thursday 80s Hair Rock Night
Thursday, April 4, 2013
8 p.m. | FREE | 21+
Thirsty Lion
71 SW 2nd Ave Portland, OR 97204
(503) 222-2155 | More Info: www.thirstylionpub.com
Break out your spandex, leg warmers, and mini skirts and come down to the Thirsty Lion on Thursday, April 4th at 8pm for our monthly 80's Hair Metal Night. Featuring 2 of the greatest ensembles in Glam Rock history – Hair Assault and members from Appetite for Deception. Performing some of the greatest 80's rock songs and ballads from bands like Guns & Roses, Motley Cruë, Bon Jovi, and many more!
Live Music at the Thirsty Lion this week:
Tuesday, March 26th • 8pm:
Portland Singer Songwriter Showcase
Every Tuesday night Portland's best singer songwriters showcase their skills, stop by for great beer, food and music! Our finals show will be on Tuesday, April 30th! Check out some of Portland's best singer songwriters all night long!
Wednesday March 27th • 8:30pm:
Guy Dilly & The Powers (aka Jordan Harris)
Imagine if John Mayer, Queen, and Neon Trees sat down and had a jam session. Guy Dilly & The Powers bring all that and more every Wednesday night at the Thirsty Lion. Come check them out!
Thursday, March 28th • 9pm:
Andy Harrison and the Ambassadors of Possibility
3 songs from Andy Harrison's debut album "Butterflies and Demons" reached top positions on national radio charts. His first single "Close to You" reached number 1 of the Gavin Up and Coming radio chart beating out artists like Alanis Morissette and Hootie and the Blowfish.
Friday, March 29th • 9:30pm:
Jessie Goergen Band
Singer Songwriter Jessie Goergen grew up singing along to favorite artists such as the Dixie Chicks, Beyonce, Christina Aguilera, Shania Twain, Faith Hill, and more. Jessie first place at the 2010 Oregon State Fair Talent Search and she also won the KPOD 2011 Texaco Country Showdown.
Saturday, March 30th • 9:30pm
Boys Next Door
Imagine a virtual jukebox of most of your favorite songs from the 60's through the 00's. Everything from AC/DC to Green Day; Brown Eyed Girl to Turnin' Japanese; and a boatload in between. Though throwing in an original by one of the band's songwriters every now and again, Boys Next Door are the quintessential cover band. Yell out a song and they're likely to learn it and play it for you on the spot!
View our complete live music calendar here: http://www.thirstylionpub.com/portland/live_music