From our sponsors at Holocene: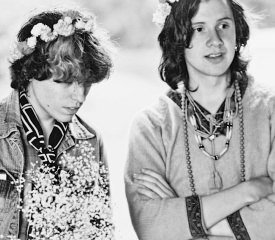 Foxygen, Pure X, Nurses DJs
March 24, 2013
8:30 p.m. | $10-$12 | 21+
Purchase tickets at Stranger Tickets
Holocene
1001 SE Morrison St Portland, OR 97214
(503) 239-7639 | More Info: www.holocene.org
Foxygen is the bi-coastal songwriting duo of Sam France (vocals, Olympia, Wash., 22 years old) and Jonathan Rado (guitar/keyboards, NYC, 22). They are the raw, de-Wes Andersonization of The Rolling Stones, Kinks, Velvets, Bowie, etc. that a whole mess of young people desperately need. They create a sometimes-impressionistic, sometimes-hyper-real portrait of sounds from specific places and times.
Yet, it never comes across as anything but absolutely modern music. They bring the manic, freewheeling qualities of an artist like Ariel Pink to those aforementioned influences to make for one of the most refreshing listens of the year. They are the real deal and total savants. Their albums are love letters to vinyl collections.