———————————————-
———————————————-
By Nathalie Weinstein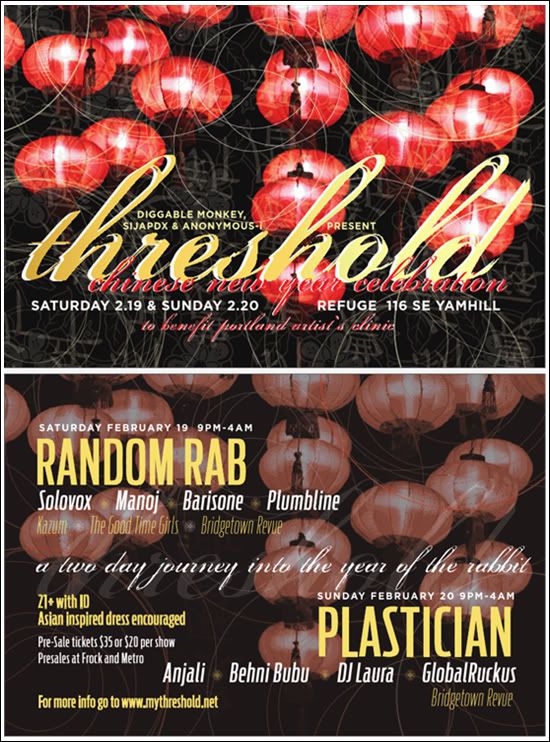 The Year of the Rabbit is upon us and with it, one of the biggest parties of the year.
Starting out as a fund-raising mechanism for Burning Man festival art projects, Threshold for the last four years has brought two days of dance, music and visual arts to Portlanders. This year, proceeds from the party will benefit the Portland Artists Clinic, which provides health care services to artists and musicians with no access to insurance.
Threshold event planner Maria Toth dishes on the Chinese lunar cycle, Pan-Asian style and why its cool to come dressed as a panda.
PDX Pipeline: Could you explain what Threshold is?
Maria Toth: Threshold is an annual, community-driven music and performance production involving some of Portland's most dedicated music, dance and visual artists. The word 'Threshold' is a metaphor for a kind of rites of passage experience.
PDX: What is the significance of this year's theme, Year of the Rabbit?
MT: In 2010, the Threshold event was shifted to early February, which is the time of the traditional Chinese New Year. The move allowed the production team to build upon and celebrate the rich, but fairly unfamiliar ancient Eastern cultural tradition. The team welcomes participants to embrace the essence of discovery and mystery surrounding the Chinese lunar cycle, as well as imminent relevance of Asia in the new world economy.
PDX: Why was Refuge PDX chosen as this year's venue?
MT: Refuge is an obvious choice because of the intention, creative dedication and high production value. The space really lends itself to build outs and top notch curations. We look forward to growing with Refuge and the opportunities they offer as a premiere center.
PDX: Threshold attendees are encouraged to dress in Pan-Asian style. Can you describe this style? What will you be wearing?
MT: Ha! A lot of folks have commented on this. The color themes are Gold, White or Reds. I think typically folks think of silks and prints like dragons. You can really play with this and go any direction. I'm going as a Panda, sheepish smile. No really, just be comfortable to dance and feel nice!
PDX: Why is Threshold supporting the Portland Artists Clinic?
MT: Health care is a prime interest because we have so many people in our communities without access to this. When the Portland Artists Clinic came together we thought what a better fit to support and create something for our community. This supports our local citizens who live in this creative culture and offers them primary care that otherwise could not be attainable.
PDX: Threshold is a two-night party. Do you have any advice for party goers looking to keep the party going strong for 48 hours?
MT: Yes, pace yourself! Drink lots of water and between dancing come enjoy the artwork. Get your photo taken at DAbooth photo booth, stop by the info booth for the clinic and learn more. Enjoy the performances, sleep in and take Monday off!