Win Tickets: We have a pair of tickets to give away for this show. To win, comment on this post why you would like to attend. Winner will be drawn & emailed Thursday, August 19 @ 3PM.
Reminder: We give out 100s of $$$ in free tickets every month to our Portland Facebook Group for many of the top events & venues in PDX. Join it if you like free stuff. Not on Facebook? Join our email list and win there.
Related: Win Tickets – Rooftop Cinema @ Hotel deLuxe | One Of The Worst Movies Ever Made
From our partners at Refuge PDX:

Join SEMI PRECIOUS WEAPONS for an AFTERPARTY following their appearance w/ LADY GAGA at the MONSTERBALL.
August 19 2010
Refuge PDX
116 SE Yamhill St.
Portland Oregon, 97217
21+ event w/ valid id
$13 at the door
RefugePDX.com
SEMI PRECIOUS WEAPONS:
It's hard to argue with a band who expresses such an impassioned sentiment. And audiences across the country ain't fightin' with the raw power and electricity that pulsates throughout a Semi Precious Weapons performance. Their message is clear- music can be dangerous, dirty, and fun.
Led by one of the most charismatic vocalists in generations, the Boston Globe declares that "SPW splits the difference between AC/DC and Queen, fronted by the fabulously fierce Justin Tranter." The visual appeal of the band, who are masterfully thrusting sex, glamour, and loving violence back into the rock & roll spotlight, is undeniable.
"We spent three years driving ourselves around in a murder van to play bars EVERYWHERE, I mean we even played a sports bar in Waterloo Iowa. Now in the last 3 months we have made an incredible record that we are proud of, and are on a tour bus playing arenas all over the world with Ms. GaGa! Hard work and magic."
We leave the final words to Justin, "our new record is titled "You Love You" because our not-so-secret mission is hoping that our fans will love themselves and rock 'n roll more than anything else, even me"….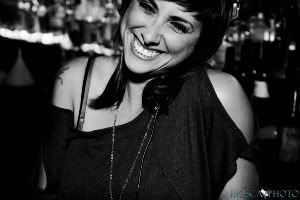 the PERFECT CYN
Cynthia Valenti has been instigating trouble on Portland dancefloors and beyond since 2002. Her reputation has been built upon bringing uncompromisingly cutting edge music to the people time and time again. History: Raised in the Chicagoland area of Indiana, Cynthia experienced the disco/house transition of the early 80s and the house/rave transition in the early 90s, but she waited to purchase gear and teach herself to dj until she moved to pdx in 2000.
She attributes the encouragement to move from spectator to participant solely to Portland's positive attitude toward women in music of all forms. The years in between bear witness to a love story between a girl and music of all kinds: from the Beatles to ac/dc, kraftwerk, bikini kill & underworld, with a memory attached to every song in between. In high school Cynthia learned classical music through playing the flute and piccolo but gave that up when she was old enough to go see live bands. Finally, armed with proper instruments, a technical background from previous employment, and a lifetime of care and attention to music, she could finally give back to this thing that had brought her to every positive person and place in her experience: music.

SOLOVOX (live)
Performer, producer, audio guru and live electronic master…Solovox is the legendary one-man synthesizer attack squad of Portland, Oregon.
An electrifying live performer and master of synths, midi, and the dancefloor; Solovox writes all-original compositions spanning house, breakbeat, cosmic funk, ambient, improv, and rock. As a DJ he also remixes material into completely unique creations live on stage. He has seen his music played nationally on television, film, and most stirringly across the Playa of the Black Rock Desert.
He has recently headlined at The Elysium Festival in San Diego, Fuente Eterno in Mexico, Area 33 in L.A., and The Oregon Country Fair where he has become the first ever electronic act allowed to perform.
A prolific composer, his website, www.solovox.com, hosts over 6 hours of free music. As a live performer he is clearly NOT a DJ…multiple keyboards, years of chops, and boundless energy have been crushing dancefloors for 8 years and counting…
http://www.solovox.com/
http://www.soundcloud.com/solovox
http://www.solovox.com/PHOTOOrangeCrystal.jpg
www.solovox.com

KAY LYN
As a college student in Ashland, OR., Kay Lyn used the living expenses left over from her student loans to throw her first party. It was a runaway success, and with the profits going to buy her first set of Technics she started collecting progressive, funky and deep house records. After three years of playing at the local bars, she moved to the house music Mecca of San Francisco. With help from a trip to Miami for WMC 2003 she broke into the SF scene, playing many bars and clubs. Influenced by the combination of great record stores and a parade of international DJs, Kay Lyn's style progressed from SF's dancefloor-friendly grooves to gritty, bumpin' tech house.
Armed with an edgier sound and a solid record collection, Kay Lyn returned to her hometown of Portland in 2006. She wasted no time, bangin' it out at clubs and all-night parties with a futuristic vibe and killer look. The European-influenced explosion of first electro-house and then indie dance pushed her sound ever forward.
A late comer to the world of digital music, Kay Lyn has made up for lost time, amassing an arsenal of tracks spanning house music's roots to its future. Always a dancer, her connection to house music is fun yet serious but always pushing into the future.