(Pipeline is giving away one of these books! See bottom of post for details!)
Well, it is going to be 100+ tomorrow during Last Thursday. Even though it might have the trappings of people auditioning for Burning Man, I don't think anyone wants to have the temperatures of the desert as well. Therefore, you can go to the cool confines of the Goodfoot Lounge and check out a pretty great art show/book release.
I called Jason and he said they have that room nice and cool with extra AC output, and if you email him at [email protected] + tell him you saw this on Pipeline–he is reserving 20 signed books for us. There are only 100 signed by the artists and they will be gone after opening night. Look at the artist list after the break. I would bet on it!
There are only 100 signed by the artists and they are sure to sell out opening night. So there ya go. You can see a full preview of the book here.
From Press Release:
"The Pack: vol 1" Goodfoot book release/ art opening
Goodfoot and Po' boy art are proud to release "The Pack: vol 1″  a collection of goodfoot artists.  The release will coincide with an art opening of all the artists from the book, July 30th, from 5-11pm, the show will be up until Aug 25th.
The Goodfoot has been doing art show's for the last 9 years. curated by Jason Brown (po' boy art).  Each month we display different artists, and have a last Thursday art opening to celebrate their art.  We have shown both regional and national artists on various levels of their career.  We try to give an opportunity to artists that might not have another outlet to display their art work, side by side with other artists that have been established and showing in the art world for some time.
The Goodfoot has  showcased several annual events such as; "The Art of Musical Maintenance" a music poster series, for the last 5 years, with artists from around the country, "Vinyl Killers" a show of painted records, for the last 6 years, with artists from around the world, recently we have added "I am, therefore I think" a social commentary series,for the last 3 years.   This book is just a small handful of the artists that have shown, and show each year with the Goodfoot.  They're the glue that hold us together and have been contributing to the art seen for years.   Enjoy!!!
We have already started presales for the book.  You can purchase it here http://thegoodfoot.com/gallery/exhibit/41/piece/2729/
8.5×11
78 pages
12 artists
6 pages per artist
over 150 images
$25 presale- Price will go up after the opening.
Artists
Chris Haberman
Dan Ness
Derek Olsen
EMEK
Icky A.
Jason Brown
Jesse Reno
Klutch
Leia Bell
Mario Robert
Michael Fields
Tripper Dungan
Here's a little taste.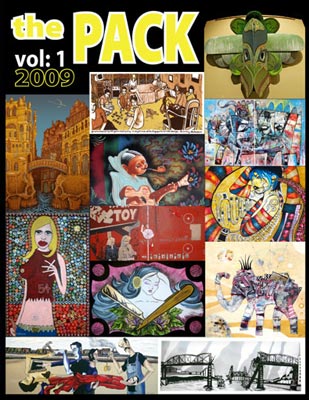 Artists info
Chris Haberman is a working writer, painter and musician native to the Portland area. He has shown artwork around town for the last 5 years. Aside from painting, he has published poetry, journalism and fiction; being awarded the Tom Doulis Fiction award, the Wilma Morrison award for excellence in journalism and is a member to the Academy of American Poets. "All of my artwork is created on found (post-consumer materials) objects, given or found on the streets and alleyways of Portland, OR, a discarded cabinet door, a table top or the occasional battered street sign quickly becomes the backdrop for a integrated puzzle of human figures.
Dan Ness
was born in Portland, OR in 1975 and studied art at the University of Oregon. Mr. Ness works in various media (painting, printing, photography, and video).Derek Olsen is a painter, silk screener and tattoo artist currently working at Black Hole Tattoo & Body Piercing in Portland, Oregon. Â He often paints as an attempt to better understand the things that inspire him…be it a flock of birds, japanese wood block prints, old tattoo flash or a brass band marching down the street. Â Derek has a desire to comprehend what it is, how it makes him feel, and why it moves him. Â His work ranges from small to large and includes free standing privacy screens created as a utilitarian way to make large scale art work more accessible. Emek's work has been shown in galleries across the United States, in Berlin, London and Tokyo and Belgium and Canada.
He has been interviewed on CNN, featured in dozens of magazines and books, including covers of Juxtapoz magazine and won more awards than his grandmas closet can hold.
Icky A. is a printmaker and illustrator from Portland, OR. He is a member of the Justseeds Artist Cooperative.
Jason Brown for the past 9 years has been the resident artists of the downstairs and curator of the Goodfoot in the upstairs.  He has been painting (with a bit of a break) for 20 years, and been showing around Portland for the last 13 years.   Once a very prolific artists, Jason has been on a bit of a sebbatical, with his art career, this will be his first feature show in about 4 years.  Jason lives with his beautiful daughter, wife, dog, cat and 6 chickens in Portland, OR.
Jesse Reno, Portland-based artist, in his latest series of paintings, shamanic beings struggle to find their place in a world simultaneously on the verge of expanding and collapsing. Totem animals and Native American figures reverberate memories of people who once lived as one with nature. Marked by symbols, these figures seek their dreams in the growth of trees and the passing of spirits. On their quest to find their true selves, they collect feathers and relics left by past encounters and past lives. They learn to transcend the boundaries of the rational world evolving into a collage of what they have become and encountered. In this body of work, Reno presents us with a journey leading inward to ultimately expand outward: "If you have moved wisely your dreams will still grow when you are gone."
Klutch, best known as the cranky old punk responsible for the Vinyl Killers project, has been creating visual mischief for over two decades. From his work with the early 1980's hardcore punk scene and the legendary Skull Skates, to painting backgrounds for Nike ads, his work has appeared around the world on t-shirts, skateboards, city walls, magazines, and galleries. In 2005 the suite he created at San Francisco's Hotel Des Arts was featured in Time magazine's annual "Best Of" issue.
"Somehow both genuinely old school and aesthetically innovative, Klutch's work continues to evolve not only along with, but also outside of the pervasive iconography of the current artistic movement. It is a visual signature that is recognizable in all of it's varied incantations, regardless of medium. Though the movements that birthed his career have long succumbed to the mortalities of popular culture and reincarnated, raised by a new generation, Klutch has ridden the waxed curbed on the edge of transient style and never fallen into the time specificity of any particular scene. And like the strange phoenix of the punk movement, he doesn't seem to burn out or fade way" -Â RVA Magazine, April 2009
Leia Bell is a poster artist and mother of three based in Salt Lake City.  She has been designing and printing artwork "professionally" (meaning as her day job) since 2000.  Leia began as the in-house poster designer for Kilby Court, the all-ages music venue in Salt Lake which she co-owned with her husband, Phil Sherburne.  She has since moved on to new artistic business endeavors, recently opening her own print and poster art gallery in downtown Salt Lake caleed Signed & Numbered.  Leia Bell's iconic rock posters have appeared in print throughout the world — in vooks such as The Art of Modern Rock (the massive coffee table art book), in DIY; Design It Yourself, and in articles in Newsweek, Nylon, Paste, Bang (Taiwan), Thrasher, Salt Lake, and Print magazines.  She will also be featured in the upcoming documentary film, American Artifact opening summer 2009
Mario Robert lll is an artist from El Paso Texas and a fourth generation carpenter inspired by comic books, movies and ancient civilizations. Using the wood's own grain and knots, he first develops the main idea of the painting. He then paints and sometimes carves the wood and is able to convert his simple materials into stunning art pieces. Each piece is an explosive colorful experience. Following the Mexican "Day of the Dead" folklore, he begins to add his new take on a very old tradition of storytelling and creating new tales without words.
Michael Fields is a self-taught artist based in Portland, Oregon. His work is the product of personal reflection.. "When I paint, I contemplate the world as I know it: situations and people of past, present and future come into focus and it is my reaction to these concepts that dictates what emerges onto the canvas." Michael's work is born not of planned composition, but inner dialog, often challenging the viewer to decipher messages both on the surface and buried deep within it's structure.
Tripper Dungan, inspired by cartoons, drew prolifically as a child. By age 13 he was steadily writing a comic strip entitled Child Hood. Tripper went to high school at the Las Vegas Academy of performing and visual arts and International Studies in Old town Las Vegas. This is where he met John Engle whom he collaborated with on Meat Comics, the Carnival of the Eye backyard experiential, and other Number Star co. creations. After leaving Las Vegas he moved up to Oregon to live with his friend Scarlett Rose Torrance. In 1999 they started performing shadow puppet shows at lounges, house parties, fairs, and piano schools around town. Now Tripper paints 3d pictures, makes music, and dose shadow puppetry up in Portland Oregon.
You can view and purchase art from the entire show after Sun, Aug 2nd
http://thegoodfoot.com/gallery/.
Current show is there now.
The goodfoot
2845 SE Stark
503-239-9292
WIN GOODFOOT ART BOOK
In addition to Goodfoot holding signed copies of this book to the first 20 people who email from seeing it on PDX Pipeline, they are also giving us one of these books. All you have to do is comment on this post why you want one. We will draw the winner on Friday at noon and email.