———————–
———————–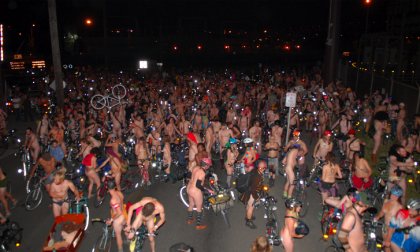 An estimated 5,000 take part in Portland's Naked Bike Ride
The masses assemble in Northwest Portland prior to the World Naked Bike Ride. There were bikes and flesh as far as the eye could see in every direction when I took this photo (from the roof of a school bus).
–Jonathan Maus, BikePortland
Jonathan has a lot of pics and a full rundown at his site.
If you have pictures or storied from the ride, please comment them. Here is a breakdown from one commenter on the Pipeline who took part in an earlier naked bike ride:
I arrived at the Coe circle at about 1:20 PM. The weather was nice and calm and nearly 70 degrees.  About 8 riders were there.  There was 1 couple with a tandem and they were in the process of body painting.  He was nude and she was wielding the brush. One other girl was there and she was not yet making any move toward stripping.  3 of the men had their tops off but no shorts off at this time, except the man being painted.  Within 5 minutes 2 of the other men had their shorts off.  A couple of curiosity seekers joined us and more riders arrived including several more girls/women.
No one seemed to be in charge, which is just as well, since nearly everyone was here to do only one thing.  Get naked and ride bicycles as a form of protest against imported oil.  Casual observers including older women, 65 plus, were talking and friendly, asking questions.  We asked them to join us especially since this group was spread across the age spectrum of 18-70.  There was even a few families with children come to enjoy the activities.
Note:Â  This traffic circle has no crosswalk to the circle so they had to cross the busy traffic lanes to get there.
3 young, attractive, women arrived together with large wigs and very good makeup.  As some more of the men and other women began to remove more of their clothing they removed their tops.  They were wearing tassels on their nipples. They had fun teasing everyone by shaking them.  The couple painting themselves finished with her still wearing a bikini.  She was still a bit nervous about going all of the way.  I shed my riding outfit, surprisingly, this is my first attempt at public nudity.  I did not feel out of place.  Without exception, there was total respect of each other and the respect went both ways.  The unspoken rule! No touching!  This held through the ride.
Another couple arrived on a tandem.  The couple was accompanied by a toddler about 2 years old (a girl) riding in a booster seat behind the mother and a boy about 7 in a trailer bike.  The little ones stayed dressed while mom and dad stripped.
2:00 sharp and the riders began mounting up.  The number of riders were approximately 50 at this time.  We rode around the traffic circle twice and the traffic that was getting pretty bad by that time was stopped.  The crowd, and drivers, were cheering.  We went down Glisten for one light then turned left.  We rode through the neighborhood and tree lined streets.  There was a couple of jogs including one at a church that was having a wedding.  Everyone cheered as we went by.  We turned right on Hawthorne and several riders joined us, stripping on the spot and some just riding with clothes for a ways before stripping.  The crowds along the commercial streets cheered as we rode by.  The houses along the street were a mixed batch of observers.  Most families waved and cheered us on. 2 were noted that daddy told the kids to go inside.
We turned north on 20th and rode through to Broadway.  We had a flat on one bike 1 light before Wielder and 3 guys stopped to help the young lady fix it.  The main body went around the block (or a couple of blocks) and the group rejoined.  We went down Broadway and one of the guard bikes was struck from behind at a light as the group went through.  The Driver was stopped by the rider down.  He wanted to run but was blocked.  After the rider put his shorts back on the driver got out but would not shut off the engine.  A fire truck arrived to check out the rider.  His wheel was damaged.  I think he rejoined the group at Grand Avenue.  The tires and wheels were repaired at the Shell station premises.  Energy drinks were provided by a distribution truck.  I think the parts were delivered from a shop. At this time there were 85 riders counted.
It was decided to ride to another parade and we proceeded to Williams avenue.  Then left to Fremont.  We were stalled for a couple of minutes at Mississippi.  We rode past the outgoing parade going the other direction and around the block with several thousand smiling, cheering parade watchers.  We tailed into the back of the parade that was only about 4 blocks long.  After passing the drummers bring up the end of the parade, it was interesting watching the adults and kids riding small bikes and lowboy three wheelers running into each other while watching the big breasted women riding by nude.  We stopped momentarily at the dispersion area. We then continued back to Fremont, Vancouver and to the lower Steel bridge.
We rode along the park and behind the concessions and accumulated several more riders and runners that had been relaxing in the park, stripping and joining us.  We stopped at the fountain where many of the riders left while the rest went to Pioneer square.
A Fantastic ride.
Tom H.