From our sponsors: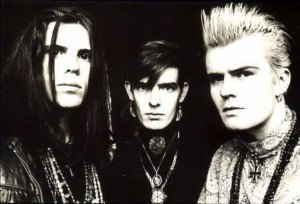 The Cult + Primal Scream
November 12, 2015
7 p.m. doors, 8 p.m. show | $49.50 ADV, $54.50 Doors | All Ages
Tickets: crystalballroompdx.com
Crystal Ballroom
1332 W Burnside St, Portland, OR 97209
(503) 225-0047
Following a succession of name and stylistic changes, the Cult emerged in 1984 as one of England's leading heavy metal revivalists. Picking up the pseudo-mysticism and Native American obsessions of the Doors, the guitar-orchestrations of Led Zeppelin, and the three-chord crunch of AC/DC, while adding touches of post-punk goth rock, the Cult gained a dedicated following in their native Britain with mid-'80s singles like "She Sells Sanctuary" before breaking into the American metal market in the late '80s with "Love Removal Machine." Though they managed one Top Ten in America with 1989's Sonic Temple, the Cult were plagued with off-stage tensions and problems that prevented them from retaining their popularity. The band split in 1995 following a pair of unsuccessful records, but returned on an occasional basis for new records — always anchored by vocalist Ian Astbury and guitarist Billy Duffy.
A new Cult with Matt Sorum and Martyn LeNoble joining Astbury and Duffy made their debut in June 1999 at the Tibetan Freedom Festival. This band produced the 2001 album Beyond Good and Evil before the Cult were retired again, as Astbury joined former Doors members Robbie Krieger and Ray Manzarek in the Doors of the 21st Century (later renamed Riders on the Storm). In 2007, it was announced that Astbury had left the band to rejoin Duffy in a new version of the Cult, with Chris Wyse on bass and John Tempesta on drums. They signed to Roadrunner and released Born into This in 2008, which they promoted over the next few years on their highly publicized Love Live tour. They returned to the studio in 2011 after inking a deal with Cooking Vinyl Records and released their ninth studio album, Choice of Weapon, the following year.
Primal Scream
Primal Scream's career could in many ways be read as a microcosm of British indie rock in the '80s and '90s. Bobby Gillespie formed the band in the mid-'80s while drumming for goth-tinged noise rockers the Jesus and Mary Chain, who were the exact opposite of Primal Scream — the latter specialized in infectious, jangly pop on its early records. After a brief detour to punky hard rock, the group reinvented itself as a dance band in the early '90s, following through on the pop and acid house fusions of the Stone Roses and Happy Mondays. With the assistance of producers Andrew Weatherall and Hugo Nicholson, Primal Scream created the ultimate indie pop and dance fusion album, Screamadelica, in 1991. Screamadelica broke down boundaries and changed the face of British pop music in the '90s, helping to make dance and techno acceptable to the rock mainstream. Instead of following through on the promise of the album, Primal Scream retreated to Stonesy boogie for their 1994 follow-up, Give Out but Don't Give Up. When that record was greeted with indifference, they returned to dance-rock fusions with 1997's Vanishing Point, which re-established the group as a major force in British rock.