From our sponsors: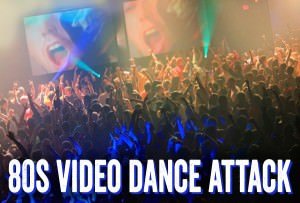 80s Video Dance Attack
September 13, 2013
$6 | 8 p.m. | 21+
More info: 80svideodanceattack.com
Crystal Ballroom
1332 W Burnside St Portland, OR 97209
(503) 225-0047 | More info: mcmenamins.com
80s Video Dance Attack is in the Crystal Ballroom Friday September 13th! Watch 80s music videos projected onto multiple giant screens while dancing on the Crystal Ballroom's famous floating floor!
Before it mutated into a weaponized haze of reality shows, MTV aired a novelty known as the music video. These bite-sized works of art, which married pop songs to striking imagery, revolutionized the entertainment industry and ushered in an era of music known as "new wave." For the task of curating and introducing these fresh sounds and flamboyant sights to audiences, MTV even created its own version of the disc jockey—the VJ.
Though MTV has sent its stable of video jockeys out to pasture, VJ Kittyrox carries the pastel, shoulder-padded torch of Adam Curry and Nina Blackwood as she masterminds the 80s Video Dance Attack. For the last seven years, this popular shindig has united generations of Portlandians with its five-hour feast of '80s-centric sensation. Across 10-foot screens, VJ Kittyrox projects classic videos from artists such as Duran Duran and Michael Jackson as audiences of Breakfast Clubbers and Pretty in Pinkers perfect their cabbage patch, running man, and Pat Benatar shimmies. A bombastic, thumping sound system and a dazzling light show accentuate the time warp as audiences deck themselves in '80s garb and shake away memories of unsolved rubik's cubes.