From our sponsors: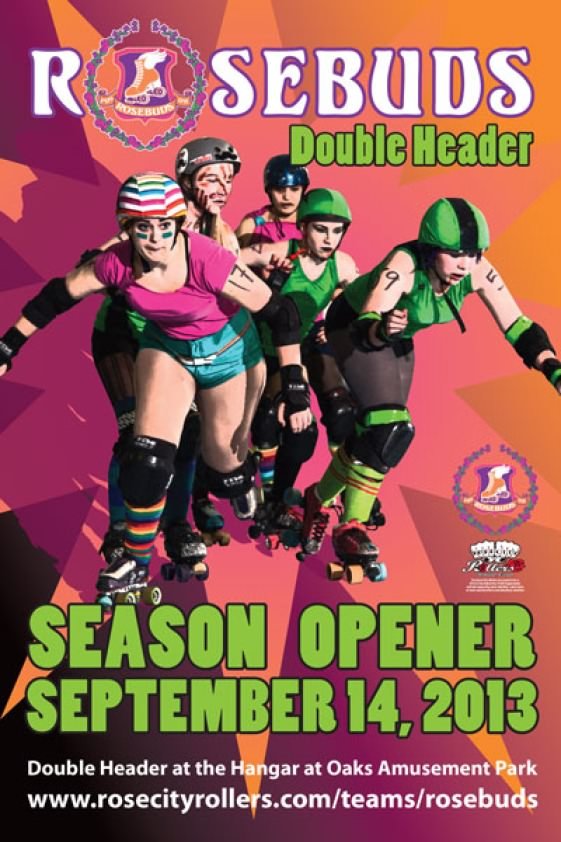 Rosebuds: Season Opener
September 14, 2013
6 p.m. | $14 General / $20 Spark Zone | All Ages
Tickets: strangertickets.com
The Hangar at Oaks Park
7805 SE Oaks Park Wy., Portland, OR 97202
Rosebuds: Season Opener (Double-Header) Roller Derby Bouts. Come see the start of the official Rosebuds 2013 Home Season as the Undead Avengers take on the Rainbow Bites, and a re-match of Death Scar Derby Droids vs. Little Red Riveters. Rosebuds is a teen girl junior derby league.
*Doors open at 5pm, Event starts at 6pm.*
Parking will be free for this event! Food and beverage is cash only. There is an ATM located in Oaks Park. No outside drinks are allowed in except sealed water bottles.
Please note, sitting alongside the track puts you within feet of the action and places you at higher risk of involvement in a skater collision. Arrive early enough to make seating arrangements you are comfortable with.
This event may be broadcasted live. By reading this, you agree that your voice, image, or likeness may be included in the broadcast, or non-broadcast media, or as part of promotions and marketing for the Rose City Rollers.
Please arrive when doors open if ADA seating is needed.
No photography/video recording permitted without prior approval.
No one under 18 is permitted to sit on the floor alongside the track.
Children 6 and under are free for this event.
Interested in group ticketing for a party of 10 or more? Please email ticketing@rosecityrollers.com for options to reserve seating together plus more.