From our sponsors: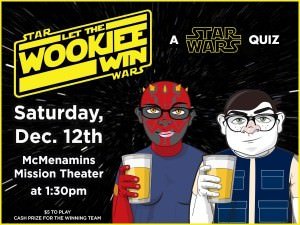 Let the Wookiee Win: A Star Wars Quiz!
December 12, 2015
1:30 p.m. | $5 Admission | 21+
More info: geekswhodrink.com
McMenamins Mission Theatre
1624 NW Glisan St, Portland, OR 97209
On December 12th, Geeks Who Drink is returning to a galaxy far, far away for another iteration of Let the Wookiee Win: A Star Wars Quiz. Get ready for The Force Awakens with the grandest Star Wars pub quiz this side of Tatooine.
Listen up, because we're going to kill a TON of Bothans to bring you this quiz. As this is Episode II of "Let the Wookiee Win", we're dubbing it "Attack of the Prequels". Our questions will cover all six theatrical Star Wars films — that's Episodes I through VI — and material related to ONLY six films. Study like a thorough padawan; they may never say the names of those bounty hunters Vader sends after the Millenium Falcon, but we consider that fair game. That also means no cartoons, no role-playing adventures, no videogames, no comic books, no Ewok Adventures, no Extended Universe novels, and no Holiday Special.
So dust off those laserdiscs, consult your Wookieepedia, and start recruiting. Geeks Who Drink rules limit teams to a six player max, so choose wisely. We charge a $5 admission fee for each player, and the more players, the bigger the pot. Prizes are usually expected to be in the hundreds of dollars — the more players, the bigger the pot of credits, so invite your friends.