From our sponsors: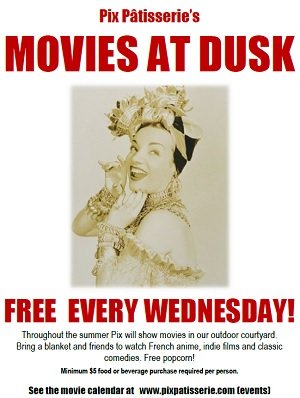 Movie Nights
Wednesdays June-September 2014
Free w/ $5 Minimum Purchase | All Ages
More info: pixpatisserie.myshopify.com
Pix Patisserie
2225 E Burnside St, Portland, OR 97214
(971) 271-716
Throughout the summer, Pix will show movies in our outdoor courtyard. Bring a blanket and friends to watch French anime, indie films and classic comedies. Free Popcorn!
Minimum $5 food or beverage purchase required per person.
Movie Night 2014 Schedule

June 4 – Chocolat 2000, Lasse Hallström
June 11 – Raiders of the Lost Ark 1981, Steven Spielberg
June 18 – A Cat in Paris (Une Vie de Chat) 2010, Jean-Loup Felicioli, Alain Gagnol
June 25 – Breakin' 1984, Joel Silberg
July 2 – Airplane! 1980, Jim Abrahams, David Zucker, Jerry Zucker
July 9 – Saturday Night Fever 1977, John Badham
July 16 – La Vie en Rose 2007, Olivier Dahan
July 23 – The Muppet Movie 1979, James Frawley
July 30 – Close Encounters of the Third Kind 1977, Steven Spielberg
August 6 – The Pink Panther Strikes Again 1976, Blake Edwards
August 13 – Little Miss Sunshine 2006, Jonathan Dayton, Valerie Faris
August 20 – The French Chef – Cooking lessons with Julia Childs 1962-1972, WGBH
August 27 – The Motorcycle Diaries (Diarios de Motocicleta) 2004, Walter Salles
September 3 – Pretty in Pink 1986, Howard Deutch
September 10 – The Grifters 1990, Stephen Frears
September 17 – A Monster in Paris (Un Monstre à Paris) 2011, Bibo Bergeron
September 24 – Goonies 1985, Richard Donner
See the movie calendar at pixpatisserie.myshopify.com