From our sponsors: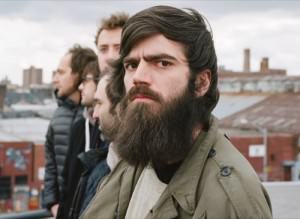 Titus Andronicus
May 27, 2016
Doors 8 p.m., Show 9 p.m. | $18 ADV, $20 Doors | 21+ (All Ages Balcony)
Tickets: revolutionhallpdx.com
Revolution Hall
1300 SE Stark St,Portland, OR 97214
In July of 2005, the rock band Titus Andronicus made their first live appearance, performing for a few friends in an unfinished basement. The ensuing decade would see nearly 800 shows, 18 members, and the release of three full-length albums and 14 7-inches, as the group rose from their obscure beginnings in the tri-state DIY scene to the heights of international "indie stardom," only to (nearly?) throw it all away in a vicious cycle of depression and decadence. The culmination of that ten-year journey is The Most Lamentable Tragedy.
The Most Lamentable Tragedy [hereafter TMLT] is the fourth studio album by Titus Andronicus [hereafter +@] and the band's debut for Merge Records. A rock opera in five acts, it will see release on the 28th of July 2015 as a digital download, double CD, and triple vinyl LP. "[In July 2005] I turned 20 years old—I started the band and closed the door on my teenage years," says singer/songwriter Patrick Stickles, "and on July 28th this year, I'm turning 30. Putting out this record is my way of closing the door on my twenties—sharing what I have learned, sorrowing what I learned too late."
TMLT was produced by frequent collaborator Kevin McMahon and +@ lead guitarist Adam Reich. The core band is rounded out by the long-standing rhythm section of Eric Harm (drums) and Julian Veronesi (bass) plus hotshot rookie guitarist Jonah Maurer. Joining the lads throughout are veteran pianist Elio DeLuca and luminous Canadian violinist Owen Pallett, beside a colorful cast of special guests representing some of the New York scene's most exciting bands (The So So Glos, Baked, Bad Credit No Credit, Lost Boy?, etc.).
The central narrative of TMLT ("a work of fiction," Stickles says, looking away) concerns an unnamed protagonist whom we meet in the depths of his decrepit despair. Following an encounter with his own doppelgänger (an enigmatic stranger, identical in appearance though opposite in disposition), long held secrets are revealed, sending our protagonist on a transformative odyssey, through past lives and new loves, to the shocking revelation that the very thing that sustains him may be the very thing to destroy him.
Hardly the rambling mess its 29 tracks and 93:44 runtime might suggest, TMLT is a miracle of structural integrity and symmetry. The complete sequence of five "acts" will present a cohesive vision the likes of which few rock groups would have the self-esteem (let alone the chops) to even consider attempting, while the division of these acts, and the special care taken to give each its own sonic and thematic identity, will grant the listener the ability to ration or binge according to their pleasure. Across these five acts, we watch the passage of four seasons—the desolate desperation of winter melts away under the warm hope of approaching spring, just as the sticky fumes of the big city summer dissipate when autumn brings its comforting colors, and with them, the knowledge that they will fade, that all will fall and decay.
La Sera
La Sera is the project of Katy Goodman (Vivian Girls, All Saints Day) and Todd Wisenbaker (Ryan Adams' 1989). The band currently resides in Los Angeles, CA.