From our sponsors: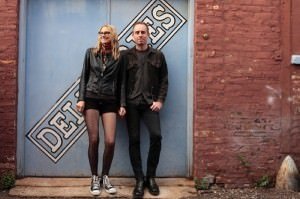 The Both: Featuring Aimee Mann and Ted Leo w/ Telekinesis
August 29, 2014
7 p.m. Doors / 8 p.m. Show | $25 | Under 21 OK w/ guardian
Tickets: aladdin-theater.com
Aladdin Theater
3017 SE Milwaukie Ave, Portland, OR 97202
(503) 234-9694
The Both
Collectively and individually, Aimee Mann and Ted Leo have more years of musical experience under their belts than most. You might call them "lifers." But they were first drawn into each others circles by the late, great Scott Miller (Game Theory/Loud Family), who brought Ted to Aimee's awareness back in 2001. Over the years, they became friendly, getting lunch when Ted was in Los Angeles or Aimee was in New York, guesting on this or that comedy or music show together, etc., but they truly bonded over a misspelled word and a hashtag on Twitter, "#dumbie." Their mutual appreciation of such #dumb things and increased communication (140 characters at a time) eventually lead to a tour together, which lead to spending more time with each other's music and in each other's company, which lead to them guesting on each other's songs nightly on tour, and another mutual appreciation via a chance over-hearing in a hotel room in Chicago, as Aimee came to collect Ted to go get lunch again (they like lunch): early Thin Lizzy.
Inspired by the folksy but edgy rock melodicism and spooky, soulful atmosphere of songs like "Honesty is no Excuse" (which they, in fact, began covering), Aimee sent Ted the stem of a new song just one week after their first tour together had ended. They began writing together, and "The Both" (originally called #BOTH, because it made them laugh) was born. They completed what was first slated to be an EP over the course of the next couple of months, but growing ever closer and ever more fulfilled working together, The Both began to take shape as a real and ongoing concern, and the EP became the first part of what will now be an LP, to be finished in August of this year and released, most likely, in early 2014. They'll be continuing to tour with each of their separate concerns (though even then, mostly together) throughout the remainder of 2013, but will also be playing shows as The Both, and will tour in support of the LP upon release.
Telekinesis
Telekinesis is a band. It says so on the album cover, on the marquee, on the poster, on your MP3 file. Telekinesis could not be a person because it is a terrible name for a person, or for anything other than a band (other than, to be fair, the act of moving stuff using one's mind).
Telekinesis is not a band. Bands have people in them (plural); Telekinesis is one person (singular) because Michael Benjamin Lerner decided that "Telekinesis" would look better on the album cover, on the marquee, on the poster, on your MP3 file, than "Michael Benjamin Lerner" (though, to be fair, Michael Benjamin Lerner is a perfectly great name for a person).
Telekinesis is both a band and a person. It's taken Michael Benjamin Lerner-now a wizened 26-year-old-four years to come to terms with this, although one would not, from listening to its/his previous two albums, 2009's self-titled debut and 2011's 12 Desperate Straight Lines, detect any hint of confusion or self-doubt, aside from the songs that were directly about confusion or self-doubt. His (we're settling into the singular male possessive now and staying there) third album, Dormarion, is, then, in ways both practical and profound, the sound of a man figuring out exactly who he is. Also, it's a total fucking hoot.
Which was not necessarily the case with previous efforts. "The second record was such dregs," Lerner says. "I was pissed off about relationship issues and health issues. Even the tour cycle was angry and negative." And this unpleasantness is due in no small part to Lerner's effort to expand Telekinesis from a solo project into the stable, ongoing unit that toured behind 12DSL, with Jason Narducy, now of Bob Mould's band, playing bass and Cody Votolato, formerly of Blood Brothers, on guitar. "I really struggled to find ways for Telekinesis to become a band-band and not just one guy making music," he says, explaining that attempts to write and record with Votolato and Narducy-whom Lerner, a drummer by nature, acknowledges as superior musicians-just didn't quite come together. "But the overarching lesson was that Telekinesis totally is one guy making music, and that's what works best and what makes me the happiest. And this record really encapsulates that."