From our sponsors: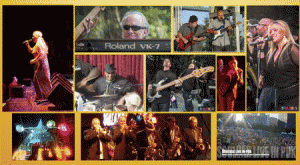 Soul Sensation Featuring Soul Vaccination
Farnell Newton and the Othership Connection, Special Guest Vinnie Dewayne
May 21, 2016
Doors 7 p.m., Show 8 p.m. | $25 General, $50 1st Row Balcony Seating | 21+
More info: revolutionhallpdx.com
Revolution Hall
1300 SE Stark St, Portland, OR 97214
503 288 3895
This event is to honor Portland and the funk, soul, and R&B artists that put Portland on the map. Soul Vaccination will also be releasing a 7″ vinyl single – Funk P-Town!
Soul Vaccination
This high energy12 piece band features Glenn Holstrom on Hammond B-3 and keyboards, along with the precision guitar playing of Max Rees. On bass, is Grammy nominated producer John Linn, and on drums is Edwin Coleman III, always bringin' the funk and groovin' hard. Portland's own Regina K, Mark Wyatt, and Porsch Anthony share their soulful vocals styles. Lewis Livermore and Dave Mills carry the backbone sound of the Soul Vax horns on trumpets, with Ron Regan, Gary Harris, & Timothy Bryson on saxophones. Don't miss our next show.
Farnell Newton and the Othership Connection
Trumpeter Farnell Newton is one of the most versatile musicians & educators in the Northwest, playing straight ahead jazz, funk, Latin music, soul, hip hop, and more. In the last year, Newton has finish his first tour with 3 time Grammy Winner & Award Winning Actress Jill Scott. Newton has also performed with Darrell Grant, Brian Blade, Bootsy Collins, Stevie Wonder, Cee-Lo Green, Eric Benet, and George Duke, among others.
Special Guest Vinnie Dewayne
Vinnie Dewayne (Vincent Dewayne Spillman) was born in St. Johns, an often controversial, small, low-income neighborhood in North Portland, OR. Vinnie grew up in a house filled with soulful tunes such as Aretha Franklin, Al Green, and Jerry Butler. Shortly after developing a love for music in general, Vinnie then began listening to hip-hop music, this was during the DJ Jazzy Jeff and Fresh Prince era. At the age of 12 Vinnie decided to take a visit to a local recording studio in St. Johns where he met Lashawn Stewart, a production engineer who quickly took Vinnie under his wing. Stewart gave Vinnie his first job, compensating him with 2 hours of studio time at the end of each week. With that time Vinnie recorded his first track ever titled, "St. Johns Soldier". This was the beginning of the pursuit of a music dream. Besides being a music lover, Vinnie was always an exceptional writer and story teller.
​In ​2009, Vinnie received a full ride scholarship to Columbia College Chicago, where he was​ to pursue a degree of the arts in Business and Entrepreneurship. Even while ​being a full time student​, Vinnie did not lose sight of his ​ultimate goal, so between school and work, Vinnie spent his time at the studio. Over the course of the school year, he recorded and released his first single entitled "Damn" which was very well-received online on a global scale. Solitary became the title of his first project, ​which dropped September 2010 hosted by DJ Ill Will. While at Columbia, he performed at various shows in the Chicago area, and through out the East Coast. In January 2012, Vinnie Joined forces with All-Terrains Music's CEO, Robert "Bob Law" Lawrence. With Bobwire.
With one year left of school, Vinnie went back home to Portland for a show and he was in a tragic car accident. It nearly killed him and a friend. He was hospitalized for months and unable to return to Chicago to finish his Spring Quarter. After a summer of healing and renewal, Vinnie returned to school in the fall, receiving his Bachelors degree in the spring of 2014, a year later than expect with the same scholarship. Vinnie is currently working on his third project, The Scholar, the follow-up to his Second album Castaway.