From our sponsors: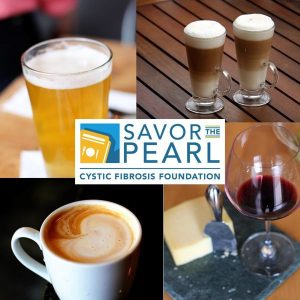 Savor the Pearl
August 18-24, 2014
$35 Before July 6 / $50 After July 7
Tickets: savorthepearl.org
How can eating and exploring in The Pearl help a child breathe?  The Cystic Fibrosis Foundation is uniting restaurateurs and area foodies for a weeklong tasting event with all proceeds benefiting children and adults suffering from the life-threatening disease.
Savor the Pearl presents food lovers with a chance to taste several signature food and drinks during August 18-24.  Jan Klepinger, Executive Director, said the tasting event will highlight the food culture that Pearl District restaurants offer while raising money and awareness for the Cystic Fibrosis Foundation, a 501(c) 3 non-profit organization.
Participants will receive tasting guides, which they will present at each location to redeem their tastes.  The tasting guide will include a map of the Pearl District, business hours, and food or drink tastes offered.
"There are so many great places to dine at in The Pearl that it can be difficult to choose just one establishment," said Carolyn Ciolkosz, Executive Director of the Pearl District Business Association. "This great event that not only raises critical funds to help find a cure for cystic fibrosis, it also provides a delicious opportunity to sample your way through The Pearl!"
"We will be showcasing our a-la-carte tacos for the event," said Graham Keavney, Director of Marketing for Isabel Pearl. "We will have a few selections to choose from…I'll recommend the Carnitas or my favorite, the Beer-Battered, Deep Fried Avocado Taco."
Other tastes will include Henry's Tavern's Signature Gorgonzola Fries, a beer tasting at Bridgeport Brewing, Sister's Coffee's signature Black Butte Gold coffee roast, and many more. An inclusive list of all participating restaurants and their offers can be found on the event website.
Event tickets are $50 per person, however, early birds can purchase them for just $35 until July 6th.
The Cystic Fibrosis Foundation is committed to finding new therapies and ultimately a cure for cystic fibrosis (CF).  CF is a life-threatening genetic disease that affects the lungs and digestive system of approximately 30,000 children and adults in the United States.
For more information about Savor the Pearl and to purchase tickets, visit www.savorthepearl.org.
———————————————
FREE PORTLAND: We give out 100s of $$$ in free tickets every week including to many of the top music and art venues in Portland. Join our newsletter if you like free stuff!
———————————————
Related Portland Events & Info
———————————————
Our new Portland Events App for PDX Pipeline is now available for iPhones, Android phones and iPads!
Now, you can have all of the great Portland events from our website in the palm of your hand when youíre out on the town.
–————————
———————————————