From our sponsors: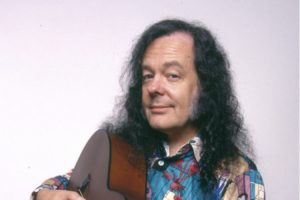 David Lindley
June 4, 2017
Doors: 7 pm / Show: 8 pm | $25 ADV, $30 Doors | All Ages
Ticket: aladdin-theater.com
Aladdin Theater
3017 SE Milwaukie Ave, Portland, OR 97202
Multi-instrumentalist David Lindley performs music that redefines the word "eclectic." Lindley, well known for his many years as the featured accompanist with Jackson Browne, and leader of his own band El Rayo-X, has long championed the concept of world music. Lindley incorporates an incredible array of stringed instruments including but not limited to Kona and Weissenborn Hawaiian lap steel guitar, Turkish saz and chumbus, Middle Eastern oud, and Irish bouzouki. The eye-poppingly clad "Mr. Dave's" uncanny vocal mimicry and demented sense of humor make his onstage banter a highlight of the show. At his expansive and eclectic live performances David Lindley consistently gives one of the most unique concert experiences available to adventuresome music listeners.
David Lindley grew up in southern California, first taking up the banjo as a teenager, and subsequently winning the annual Topanga canyon banjo and fiddle contest five times as he explored the American folk music tradition. between 1967 and 1971 Lindley founded and lead what must now be seen as the first world music rock band, the Kaleidoscope. In 1971, Mr. Dave joined forces with Jackson Browne, serving as Jackson's most significant musical co-conspirator until 1981. In 1979, Lindley had begun working with old friend Ry Cooder on 'Bop Till you Drop' and 'The Long Riders' sound track, a musical collaboration that lasts to this day, and has spawned many recording projects and several world tours as an acoustic duo.
In 1981, Lindley created his own remarkable Band El Rayo-X, which integrated American roots music and world beat with a heavy reggae influence. 'El Rayo-X', 'Win This Record' and 'Very Greasy', as well as a live e.p. during this period he also came forth with a solo album, 'Mr. Dave'. Lindley and guitarist Henry Kaiser went to Madagascar for two weeks in 1991 and recorded six albums of indigenous Malagasy music (including tow collaborative cd's, 'A World Out of Time' volumes one and two on Shanachie) which proved to have a major impact on the world music scene, both for the quality of the Grammy nominated music recorded, and the fair and ethical way the Malagasy musicians were dealt with. Throughout this long and distinguished career, Lindley has been one of Hollywood's most in demand session musicians, lending his skills to the recorded works of Bob Dylan, Rod Stewart, Linda Ronstadt, Crosby and Nash, Warren Zevon, and many others.

Cindy Lee Berryhill
Cindy Lee Berryhill marks an affecting, intimate, and dazzling return to record-making with The Adventurist, an ambitious song cycle set for release by OmnivoreRecordings on March 10.
Encinitas, Calif.-based singer-songwriter-guitarist Berryhill describes her elegantly crafted set of new original compositions — her first release since 2007's Beloved Stranger — as a collection of "tone poems about the experiential feeling of enlovement."
Written and recorded over the course of the last five years and funded in part by a Kickstarter campaign, The Adventurist was co-produced by Berryhill with David Schwartz, Sheldon Gomberg, Ben Moore, and Lee Ray. Contributing musicians include singer-songwriter Syd Straw,
Probyn Gregory and Nelson Bragg of Brian Wilson's band, DJ Bonebrake of X, and David J Carpenter of Dead Rock West.