From our sponsors: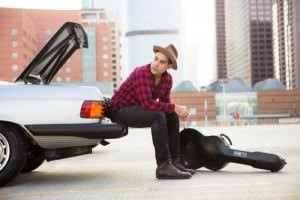 Joshua Radin (Solo & Acoustic)
April 25, 2016
Doors 7 p.m., Show 8 p.m. | $25-30 | Minors OK w/ Guardian
Tickets: aladdin-theater.com
Aladdin Theater
3017 SE Milwaukie Ave, Portland, OR 97202
Joshua Radin was lying sideways across a hotel bed in Stockholm when he wrote his new album. Spending the day in bed might seem like a counterintuitive approach to productivity, but after feeling like the creative well had run dry, Radin suddenly found himself writing the strongest material of his career after turning 90 degrees. Titled 'Onward and Sideways,' the album artfully and honestly captures the experience of falling completely and utterly in love, with all the joy and hesitancy and exhilaration and fear and doubt it entails.
Love and the complications surrounding it have long proven to be Radin's songwriting forte. Though he never intended to be a live performer, there was little choice when the first song he ever wrote, "Winter," was featured on an episode of "Scrubs." The resulting fervor around the song soon led to a record deal, and over the last decade, Radin's toured the world countless times, sold hundreds of thousands of records and topped the iTunes charts, earned raves from Rolling Stone to The Guardian, performed on The Tonight Show, Conan, and more, played Ellen DeGeneres' wedding at her personal request, and had his songs featured in more than 150 different films, commercials, and TV shows.
For 'Onward and Sideways,' his sixth studio album, Radin enlisted an all-star team of collaborators including Sheryl Crow, who duets with him on the sweetly acoustic "Beautiful Day," as well as drummer Matt Chamberlain (Elvis Costello, David Bowie), pedal steel guitarist Greg Leisz (Jackson Browne, Willie Nelson), keyboardist Patrick Warren (Bob Dylan, Emmylou Harris), and producer/guitarist Tony Berg (The Replacements, Lucius).
Allison Pierce
Allison Pierce was born in Birmingham, Alabama to a family of creative individuals. In their teens, Allison and sister Catherine formed the acclaimed duo The Pierces who released four full-length albums, most recently on Polydor/Universal. In 2007 Rolling Stone magazine named the sisters as a Breaking Artist to watch. The duo's songs have been placed in various network TV shows including the song "Secret" which has been the theme song for the HBO show Pretty Little Liars for the run of the show. In live performance the sisters have toured as the supporting act for Coldplay and Lissie among others. Allison Pierce now steps into the spotlight as a solo artist.