From our sponsors: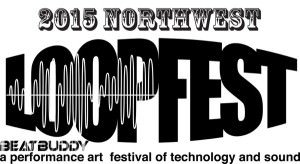 NW LoopFest
October 17, 2015
4 p.m. | $10 | 21+
More info: nwloopfest.com
The Analog Cafe and Theatre
720 SE Hawthorne Blvd, Portland, OR
The NW LoopFest: Once again it is the greatest, most creative musical event you've never heard of is here! This year the NW LoopFest (www.nwloopfest.com) is four nights in three cities.
LoopFest is a showcase of music and technology performance artists. These artists use hardware and/or software technologies to instantly record and play back sound. It is a diverse, creative, innovative, and fascinating display of talent, science, and art. Looping has been around for decades in academia, avant garde, and incorporates new technologies into making sound.
This year the NW LoopFest will debut two new looping technologies. Frederick Brummer from Vancouver, CA has an analog looping device that makes use of a record disc that can be manipulated the same way DJs scratch and mix. MC Space Cadet will present his Holofunk; an audiovisual, gestural live looper. It is, as he calls it, "…a Minority Report interface for looping."
All of the artists are highly talented, highly creative, highly interesting, and amazingly in technologies and styles. Some are noise, some use traditional song forms, some are ambient, some are powerful, some are subtle.
Complete line-up, set-times, venue, and ticket information for each event is online at www.nwloopfest.com along with links to artist websites and video recorded performances from last year's festivals. Facebook links are available for those who want to personally interact with the festival and performers, as well as links to stream the concerts live.
The NW LoopFest is sponsored by Beat Buddy.
Oct 17 –
– Upstairs Line Up –
4pm Quiet Horn – Portland, OR
4:45pm Professor Slicebox – Portland, OR
5:30pm Frederick Brummer – Vancouver, BC, Canada
6:15pm One Street Over – Mead, WA
7pm Riley Tyrel Carter – Boardman, OR
7:45pm Xandra Wong – New Orleans, LA
8:30pm Son Fish – Turlock, CA
9:15pm Galaxe – Portland, OR
10pm The Electric Noodle – San Francisco, CA
10:45pm Canzino – Vancouver, BC, Canada
11:30pm Yak Attack – Portland, OR
12:15am Tigr Hors – Columbus, OH
1am Noah Peterson – San Antonio, TX
– Downstairs Line Up –
4:15pm Ted Killian – Medford, OR
5pm Open Source Open Force – Seattle, WA
5:45pm Eric Muhs – Seattle, WA
6:30pm thisissami – Palestine/Vancouver, BC, Canada
7:15pm Troll Foot Frass – North Branch, MN
8pm Waffle Taco – Portland, OR
8:45pm Daniel J. Davis – Seattle, WA
9:30pm Lexhart – Seattle, WA
10:15pm Cindy Sawprano – San Francisco, CA
11pm Chrome Mole Monocle – Portland, OR
11:45pm Mike Why – Pittsburgh, PA
12:30pm MC Space Cadet – Seattle, WA