From our sponsors: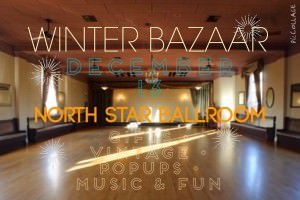 North Star Ballroom Winter Bazaar
December 13, 2015
10 a.m. – 4 p.m. | Free
More info: Facebook
North Star Ballroom
635 N Killingsworth Ct, Portland, Oregon 97217
A holiday one-stop-shopping extravaganza on two floors! Come waltz around the ballroom one-of-a-kind gifts for everyone!
Shop Local, Shop Small, don't go to the mall!!!
Including some killer vintage, handmade and vintage jewelry, clothing, records, housewares, books, exquisite handmade items, and more! Some great pop-ups from our favorite local designers and sellers!
Dj's DNA and Exiled Records will be keeping the vibes groovy (and selling some vinyl as well!)
Featured Vendors
Jahdess Bless
Julia Barbee
Essie Day Jewelry
Nationale
Tigers Den Vintage
Drowsyswords Vintage
xobruno
Killer Condo Apparel
Marsden Finds
The Living Home
Blue Mars Dry Goods
Kat Seale designs
We Wandered Home Vintage Homegoods
Moon of Hyldemoer Herbals
Hey Studio Ceramics
Tanner Ann Vintage
Miss Zumsteins PIES!!!
Cody Brant – Art Cards and Collages
Jordan Hamilton – Mens Vintage
Freaky Peeks
and more!
Outside we will have the Food Cart serving mexican food! Pepe Caliente!
Inside there is a great cafe room with seating, kids crafts and movies to relax when you need a break from shopping!
A solstice tree holiday photo op display!
Also its a clothing drive for needy kids and parents!
We have a just few vendor spots left please email drowsyswords@gmail.com for more info!