From our sponsors: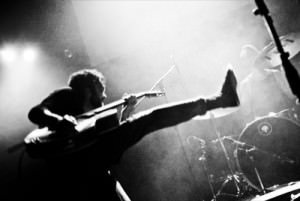 Shakey Graves: Halloween Show (Starfleet Academy Theme)
October 31, 2015
Doors at 7pm, Show at 8pm | $18 ADV, $20 Doors | All Ages
Tickets: aladdin-theater.com
Arlene Schnitzer Concert Hall
1037 SW Broadway, Portland, OR 97205
(503) 248-4335
"The first album was me wanting to burn down my life, cut my hair off, and run screaming into the woods," says Alejandro Rose-Garcia. "This album is the trials and tribulations of becoming domesticated, letting people into your world and letting go of selfishness—the story of becoming a pair, losing that, and reconciling with the loss and gain of love."
Rose-Garcia is professionally known as Shakey Graves, and with his new record, And the War Came, he extends the ground—emotionally and sonically—broken by his 2011 self-released debut album, Roll the Bones, which brought him national acclaim and, three years later, still ranks near the top of Bandcamp's digital best-seller charts.
Roll the Bones established the powerful, mesmerizing Shakey Graves sound of Rose-Garcia accompanying himself on guitar and a handmade kick drum built out of an old suitcase. NPR Music named him one of 10 artists music fans "should've known in 2012," describing him as "astonishing…unclassifiably original. And frighteningly good." Paste included him in a "Best of What's Next" feature, praising his "gnarly composite of blues and folk," while The New York Times observed that Shakey Graves "makes the one-man band approach look effortless."
But while this distinctive arrangement continued to earn him an ever-expanding fan base on the road, Rose-Garcia knew that he wanted the follow-up to achieve something different. "With the first album, I didn't have any expectations except my own," he says. "This time, I was making something people were going to listen to out of the gate. I tried to maintain everything I enjoy about recording, the weird homemade aspect, but I was seeking a new, shining sound quality. The concepts for the songs are a little bigger. This is not the 'Mr, Folk, Hobo Mountain' album—it's more of the Cyborg Shakey Graves. It's definitely the next step in the staircase."
Tennis
Tennis comprises couple Alaina Moore and Patrick Riley. The Denver-based duo began writing music together as a way to document their time living at sea on a small forty year old sailboat. The result was their first release, Cape Dory which saw them quickly become one of the most alluring and blogged about bands of the new decade. Moore and Riley followed Cape Dory with Young and Old, which The New Yorker described as "winsome as it is ebullient," and debuted #1 on Billboard's Heatseeker Chart and #1 on CMJ Top 200, where it remained for three straight weeks. The album also debuted on Soundscan's "New Artist Chart" at #1 remaining there for nine consecutive weeks. In 2013 the Small Sound EP debuted on Communion Music, followed by thousands of miles on the road, and a support tour with sister super-group, Haim. Late last year, the duo released Ritual In Repeat. Produced by Patrick Carney (The Black Keys), Jim Eno (Spoon) and Richard Swift (The Shins), their latest full length showcases a band in full control of their sound and craft. With well over a million streams and multiple television spots, the album has been received with open arms by loyal fans as well as new.