From our sponsors: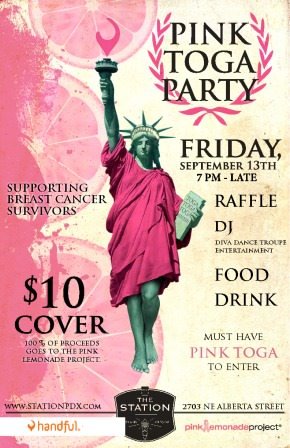 Pink Toga Party
September 13, 2013
7 p.m. | $10
More info: Facebook
The Station
2703 NE Alberta St Portland, Oregon 97211
(503) 284-4491 | More info: stationpdx.com
It's a pink affair September 13th, when Handful sponsors the Pink Toga Party at The Station in Portland. All cover charge proceeds benefit The Pink Lemonade Project, which works to educate and empower those affected by breast cancer. Drinks, performances by the Diva Den Dancers, DJ justincase, a raffle, and food round out an evening devoted to tackling one of the most prevalent forms of cancer in the world.
Portland's own Handful is behind the party, a small company with a big idea: Offering a flexible sports bra that flatters, not flattens all shapes and sizes. Additionally, the Handful bra is an approved mastectomy garment billable to insurance. Intended for the modern, active survivor, the Handful Bra can serve a patient from the post-surgical phase of treatment through radiation, reconstruction, and the return to wellness. Those with range of motion issues can step into the Handful Bra and pull it up like underwear. Gentle compression allows lymph to flow freely. Moisture wicking fabric helps during hot flashes. Feminine straps layer beautifully under everything.
"We see this event as a celebration of wholeness and one more important step closer to conquering breast cancer," said Jennifer Ferguson, Handful CEO. "The Handful bra simplifies things for women worried about balance, health, and their old self. We share the Pink Lemonade Project's goals and are excited to toast to the greater cause at hand."
One of Handful's four owners is a stage three cancer survivor who underwent a double mastectomy. The sports bra not only restored her shape, but improved her health as well, finetuning her changed posture. And while the company's flagship product has serious implications, both in terms of health and self-confidence, Ferguson understands the importance of a sense of humor. Color shades for Handful range from "Freshly Squeezed Orange" to "Purple Mountains Majesty."