From our sponsors: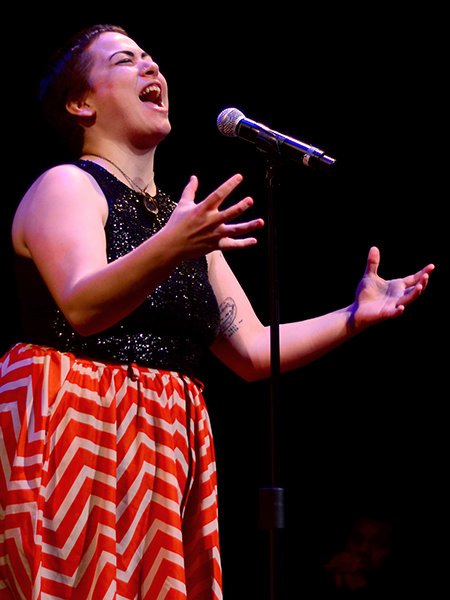 Performance: Portland Poetry Slam
June 17, 2016
7 p.m. | Adults $20/Seniors and All Students $15 | Suitable for mature audiences only
More info: columbiaarts.org
Columbia Center for the Arts
215 Cascade Ave, Hood River, OR 97031
Ask Portland Poetry Slam (PPS) Slam Master Leyna Rynearson the definition of Slam Poetry, and she'll say, "Poetry slam is to a poetry reading as a house show is to a concerto performance. This is poetry's form of an underground revolution." Portland Poetry Slam represents the current generation on a 30-year timeline of Slam poetry; an evolution that has left the art form raw but more popular than ever.
The Portland Poetry Slam is a competitive poetry event that seeks to provide an open stage to the community. Every other week, poets compete head-to-head in a three-round slam, with one talented poet being crowned winner and Pretty Princess of Poetry for the night. People compete throughout the season to earn a spot in the Finals nights, and winners go on to represent Portland at national poetry events. The Portland Poetry Slam is the proud home of some of the most notable and prolific Slam poets in the country, and the greatest community of writers and audience members any wacky art show could want.
One attendee described PPS as "the perfect way to be inspired, moved, and all together blown away by the beautiful and talented people in [Portland]. Slam poetry, although sometimes thought of as lame by an outsider, is an incredible thing to be a part of. If you're even slightly curious about this event, I push you to try something new out of your comfort zone." If you are interested in stepping outside of your own comfort zone and witnessing raw, emotional talent, please join us as we host this nationally-renowned Slam group, coming out of 2015 having advanced to the Individual World Poetry Slam Competition.
poTENtial Program Series: 10 Years of Bringing Art to Life
You're invited to ten special 10th anniversary events in honor of CCA bringing art experiences to the Gorge since opening in 2006. Each event will focus on one art form, including literary arts, performance, music, theatre, visual arts, film, dance, comedy, cultural, and photography.
These events will begin with an interview with the artist(s), followed by a performance or presentation. CCA is proud to present this exceptional program series, and you're invited to join in the celebration.