From our sponsors: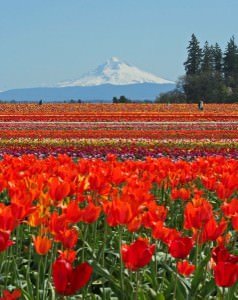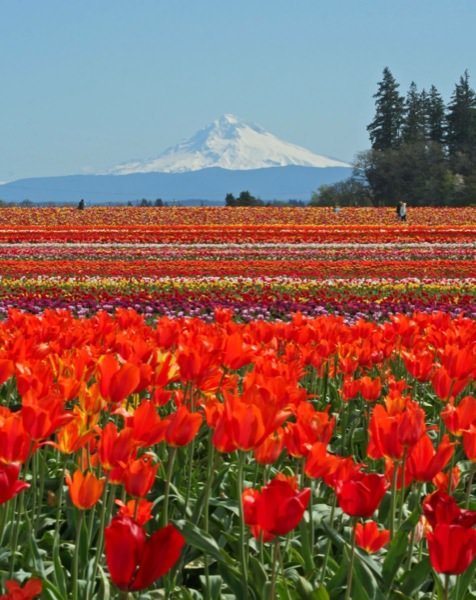 Wooden Shoe Tulip Festival
March 18-May 1, 2016
Daily 9 a.m.- 6 p.m.
$5 Per Person / $20 Max Per Car
More info: woodenshoe.com
Wooden Shoe Tulip Farm
33814 S. Meridian Rd. Woodburn, OR 97071
For many, the world-renowned Wooden Shoe Tulip Fest is a family tradition, and a brilliant signal of all things spring. This year, the 32nd annual Wooden Shoe Tulip Fest opens Friday, March 18 with a symphony of colors throughout the 30 acres of vibrant bulbs on display for visitors, young and old. The event, running through May 1, draws thousands of international visitors each year. This year's Tulip Fest is presented by Silverton Hospital, and is supported by Les Schwab, Woodburn Premium Outlets, Papé Machinery, and Ag West Supply.
"It is wonderful to see that the Tulip Fest has become a family tradition for so many in the Northwest and beyond," said Barb Iverson, owner, Wooden Shoe Tulip Farm. "We plan year-round to make each Tulip Fest memorable for returning and new visitors alike, and we hope that our new additions will create some fun photo opportunities."
Visitors to the Tulip Fest will have access to the four-acre Wooden Shoe Event Garden, hay wagon rides, cow trains, children's play area, duck races, slides, swings, and photo cut-out boards for creating fun memories. Food carts will be open for food purchase, and the Wooden Shoe Vineyards tasting room will be open with daily wine tastings free with admission.
New Events and Expanded Doggie Days
New this year, visitors can enjoy a flashy Plymouth Hot Rod Show, sign up for open air painting classes, and take a ride on the Wine Wagon Farm Tour. In addition, while dogs are welcome at the tulip Fest every day, there are now two Doggie Days has now expanded into two days, with a 5k run/walk that Fido will love.
Special Events During Tulip Fest and Beyond
Musical guests will be performing on select weekends. Regular weekend activities include the Crafter's Marketplace, wooden shoe making demonstrations, pony rides, jump tents, zip lines, and paintball. Weather permitting enjoy steam tractor demonstration and a magical evening Steam Tractor Spark Show.
March 26: Annual Easter Egg Hunt begins at 10am and again at 12:00pm starting with ages 0-2 followed by ages 3-4, 5-6, 7-8 & 9-11 every 10 minutes in the Wooden Shoe Gardens.
-March 26, 27 and April 2, 3, 9, 10, 16, 17 and 23: Special Musical Guests from noon until 2-4 p.m. (end times vary per date)
March 27: Sunrise Easter Service begins at 7 a.m. in the tulip fields.
April 2: The Tulip Trail 5K/10K Run takes place in the tulip fields and proceeds go to Oregon City Track department.
April 2, 22 and 23: Shutterbug Photography Class offered in tulip fields.
April 7, 8, 9, 14 and 15: Pro Photo Photography Class offered in tulip fields.
April 15: Cookies & Paint activity includes painting supplies, cookies, tulip festival entrance and instructions.
April 22 and 29: Wine & Canvas activity includes painting supplies, glass of wine, tulip festival entrance and instructions.
April 24: Plymouth Car Show takes place adjacent to the tulip field.
April 30–May 1: Doggie Days returns with guests from Northwest Boxer Rescue. Furry, four-legged friends are welcome and clay paw print souvenirs are a favorite!
May 21: Fine food and wine amongst the tulips during the Field & Vine Dinner in the tulip fields – 5:30 p.m. – 8:30 p.m.
The full schedule of special events can be found online.
Admission and Pricing
Individual admission is $5 per person with a maximum car charge of $20. Children 12 years and younger are admitted for free. Information on additional pricing options such as group tours can be found online. Visitors can check the weather conditions of the farm before their trip by visiting the Field Report, which is updated daily.
About Wooden Shoe Tulip Farm
The Iverson family farm began in 1950 and the family started growing tulips in 1974. The Wooden Shoe Bulb Company started in 1983, and in 2001 and they changed the name to Wooden Shoe Tulip Farm. The fields are open each year from the end of March to the first week of May. In recent years the farm has added a Fall Gift Shop, Pumpkin Fest and Fields of Terror in the fall. In 2014, the family announced the farm's newest addition, the Wooden Shoe Vineyards. For additional information, please visit woodenshoe.com.