From press release: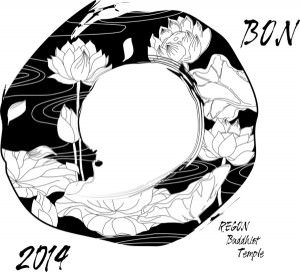 OBONfest 2014
August 2, 2014
3-9 p.m. | FREE
More info: oregonbuddhisttemple.com
Join us for food, gifts, entertainment and dancing. This year's Obonfest features — Food items: yakisoba, yakiniku, yakitori, shave ice, manju, chirashi sushi, beer garden, soft drinks, Spam musubi
Obon is an annual Japanese festival commemorating one's ancestors. Traditionally it was believed that each year during Obon, the ancestors' spirits return to this world to visit their relatives. For Obon, lanterns are hung in front of houses to guide the spirits, obon dances (bon odori) are performed, graves are visited and food offerings are made at house altars and temples. OBT holds an Obon festival every year on the first Saturday of August. There is entertainment, bon odori (open to anybody), children's area and food and gifts are available for purchase.
———————————————
FREE PORTLAND: We give out 100s of $$$ in free tickets every week including to many of the top music and art venues in Portland. Join our newsletter if you like free stuff!
———————————————
Related Portland Events & Info
———————————————
Our new Portland Events App for PDX Pipeline is now available for iPhones, Android phones and iPads!
Now, you can have all of the great Portland events from our website in the palm of your hand when youíre out on the town.
–————————
———————————————