From our sponsors: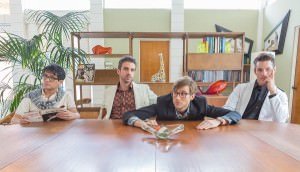 McMenamins, Monqui and 94/7fm prents
Saint Motel + Phases
May 28 , 2016
7 p.m. doors, 8 p.m. show | $18 ADV, $20 Doors | All Ages
More info: crystalballroompdx.com
Crystal Ballroom
1332 W. Burnside, Portland, OR 97209
For L.A.-based four-piece Saint Motel, every song holds the possibility for a spontaneous party. "That perfect moment in time where it feels like anything is possible. The kind of party where anyone is welcome but only a select few are invited," says frontman A/J Jackson, whose bandmates include guitarist Aaron Sharp, bassist Dak Lerdamornpong, and drummer Greg Erwin. "It's all kinds of people mixing together, and looking for these perfect, organic moments of beauty and danger."
As heard on Saint Motel's breakout single "My Type," that thirst for joyful eclecticism gets channeled into a retro-futuristic brand of pop that's big on bright melodies, shiny hooks, loungey rhythms, and clever yet candid lyrics. The title track from Saint Motel's most recent EP (released in the US by Elektra earlier this year), "My Type" went top 10 at Alternative radio while Entertainment Weekly heralded it as a contender for "song of the summer." And with its sly send-up of mod-world mystique-achieved thanks to the eye of Jackson, former film student who directs most of the band's video output-the "My Type" video has now racked up more than 6.4 million views on YouTube.
Phases
PHASES is the result of four friends listening to the universe and working tirelessly to make their dream a reality. For all the serendipity and magic involved, the real through line was a year of the hardest work and most prolific collaboration any of the group had ever experienced. The result is a party album culled from all the best moments of its players' favorite decades, a cosmic validation of shared creativity, and turning past struggle and strife into excitement and pure joy. Without the trust in their own abilities together and apart, without each domino falling into its right place, without simply believing in the power of a daydream, who knows what the universe would have had up its sleeve?