From our sponsors: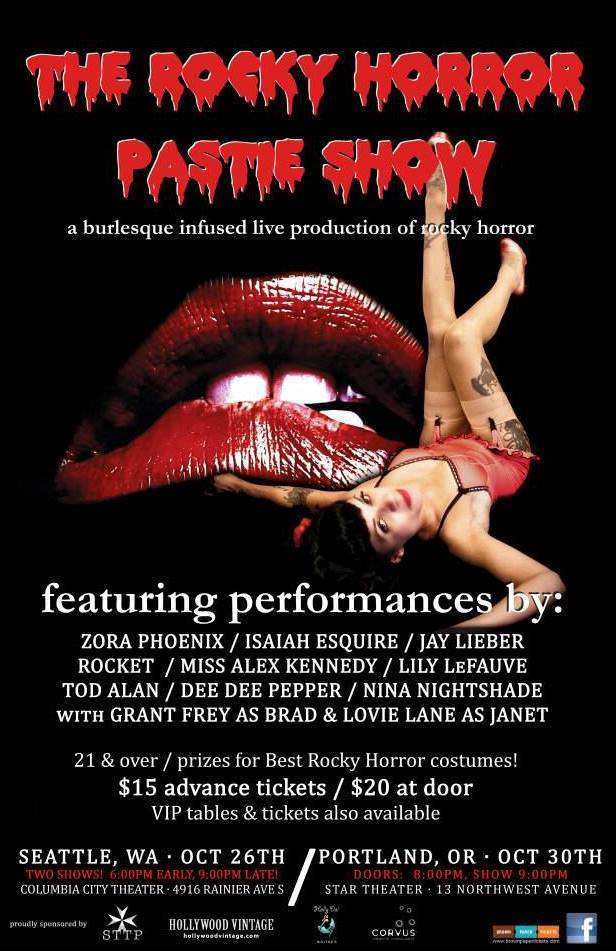 The Rocky Horror Pastie Show
October 30, 2014
Doors 8 p.m., Show 9 p.m. | $15 general, $20 Doors, $25 VIP | 21+
Tickets: startheaterportland.com | More info: Facebook
Star Theater
13 NW Sixth Avenue, Portland, OR
503-345-7892
A Burlesque-inspired Rocky Horror Production: All of the music, most of the dialogue and a lot more skin, shimmy and sensation! Now in it's fourth year, The Rocky Horror Pastie Show has become a tradition among Rocky Horror and burlesque fans alike.
In case you missed us before and especially if you didn't you'll truly be shivering with anticipation as we bring you a live stage adaptation of Rocky Horror with a little less dialogue and a LOT more T&A.
Featuring:
Grant Frey as Brad
Lovie Lane as Janet
Zora Phoenix as Frank-N-Furter
Isaiah Esquire as Rocky
Rocket as Magenta
Miss Kennedy as Columbia
Johnny Nuriel as Riff Raff
Lily LeFauve as Dr. Scott
Dee Dee Pepper as Eddie
and Nina Nightshade as Trixie (those lips!)
And be sure to break out your fishnets, pearls, and platforms so you can walk away with some fancy prizes from our Rocky Horror costume contest.