From our sponsors: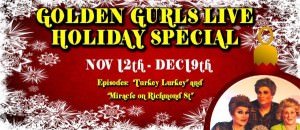 Golden Gurls Live Holiday Special
November 12-December 19, 2015
7 p.m. | $22 | 21+
More info: grindhousepdx.com
Funhouse Lounge
2432 SE 11th Ave. , Portland, OR 97214
Our first show as Grindhouse PDX will be the fan favorite "Golden Gurls Hoiliday Special" at the Funhouse Lounge. Last years show completely sold out by opening weekend, so this year we have added a few more shows. Get your tickets ASAP, You don't want to miss this show.
In the spirit of Thanksgiving we will be doing "Turkey Lurkey" and an original Christmas episode "Miracle on Richmond St,." . This show has quickly become a Portland Holiday Tradition. We are pleased to have Honey Bea Hart, (Blanche), Scott Engdhal (Rose), and Trenton Shine (Dorthy) all coming back.