From our sponsors: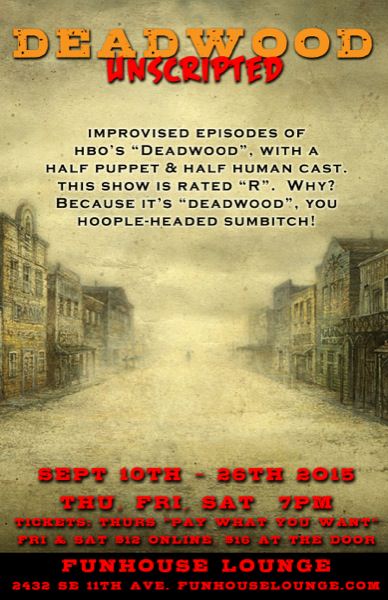 Deadwood Unscripted
September 10-12, 17-19, 24-26, Oct 1-3, 8-10, 2015
$16-$20 ADV, $20-$24 Doors
Thursdays are "Pay What you want" at the door as long as tickets are available
More info: funhouselounge.com
Funhouse Lounge
2432 SE 11th Ave., Portland, OR 97214
Funhouse Lounge is proud to present Deadwood Unscripted!
Unscripted episodes of HBO's infamous and critically acclaimed hit television series improvised before your very eyes.
Not only will you see some of your favorite characters onstage, but some of them will be puppets. YES. We said puppets.
Of course this show will be rated "R" and we all know why.
This will be a popular show for not only Deadwood fans, but fans of the western genre.
It's a night filled with saloon girls ,Swearengen's swagger, and foul mouthed puppets.
Directed by Trenton Shine and Mandy Khoshsevian
Starring The Funhouse Lounge Improv Company