From our sponsors: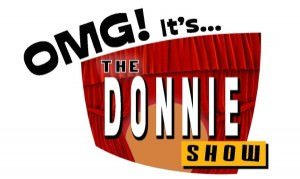 OMG! It's the Donnie Show
June 13, 14; 20, 21; 27, 28
7:30 pm | $20
More info: trianglepro.org

Triangle Productions
1785 NE Sandy Blvd MB #2, Portland, OR 97232
(503) 239-5919
Are you a fan of classic variety shows like Laugh-In and The Ed Sullivan Show? Well, the OMG! It's the Donnie Show! brings together some of the most unusual acts to hit the triangle stage for a hilarious and totally unpredictable night of entertainment.
I'm your host and I'll be joined on stage with a live band and with my musical director and sidekick Jonathan Quesenberry. Each night we'll have special guests (each night will be someone new), who will bring their own ideas on how to entertain you.
Oh, and I can't forget my three lovely back up singers!
The "not-so-famous" Donnettes.
Come, join us…you never know what will happen, but we're going to have a great time! There'll be Mimosas sold in the lobby.
See ya at the theatre! (tan, shoeless and with a big hug)
Donnie