This show has been cancelled
——
From our sponsors: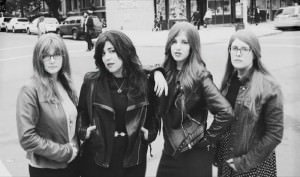 Bulletproof Stockings
December 27, 2015
Doors 7 p.m., Show 8 p.m. | $15 | Minors OK w/ Guardian
Tickets: aladdin-theater.com
Aladdin Theater
3017 SE Milwaukie ave, Portland, Oregon 97202
503.234.9694
Perl Wolfe and Dalia G. Shusterman met on a rainy night in Crown Heights, Brooklyn, in December of 2011. Perl played her songs, and Dalia knew just what to do, like she had heard them before in another lifetime. The connection was made, and Bulletproof Stockings was formed. They recorded their first single "Frigid City," and played their first show at "In The Glow," a benefit concert at Lubavitcher Yeshiva for a local school, less than one month after meeting. In March 2012, they recorded and released their first EP album "Down to the Top." They've since played many shows all around New York, and recently played their first show in Los Angeles.
Perl began playing piano and singing as a child in her hometown, Chicago, IL . She participated in many recitals, music festivals and competitions, all throughout elementary school and high school, and sang in numerous choirs. Though others had suggested it, she never had intentions of pursuing a career in music. It wasn't until April of 2011 that she began writing original music – this came to her, an unexpected avalanche. From there she continued to develop her gift in an effort to pursue a full-time music career. She then moved to NY to make it happen.
Dalia started shaking a tambourine as a teenager in the Washington D.C. music scene and through a series of adventures, performed as a percussionist in New Orleans for parades with Casa Samba, Cirque de Ville circuses, and on stage with Mardi Gras Indians at the New Orleans Jazz festival. She then went to SUNY Purchase where she was asked to play drum kit with an opening act for the band Boss Hog. Soon after, she helped found the indie band Hopewell, with whom she recorded two albums, an EP and numerous singles. Together they toured both the U.S. (including CMJ, SXSW) & Europe, playing summer festivals (Leeds, Reading, PukkelPop), radio shows (including John Peel Sessions, BBC) and were featured
in press around the world (..Time Out NY; NME, UK…). After an extended maternal leave, basking under the date palms of Los Angeles, she came back to New York for a fresh start. A few months later, she got a phone call and, Dalia & Perl met on a rainy night in Crown Heights, Brooklyn…