From press release: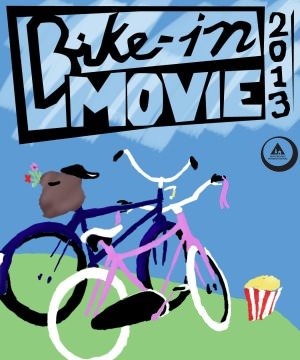 10th Annual Bike-In Movie
September 7, 2013
6-10 p.m. | Free | All Ages
More info: portlandhostel.org
Portland Hawthorne Hostel
3031 SE Hawthorne Blvd, Portland, OR 97214
503-236-3380
Hostelling International USA Portland Hawthorne Hostel is having its Tenth Annual Bike-In Movie event on Saturday September 7, 2013. This year's feature film "Riding North" about the grueling trip from the Yukon to Yellowknife in the NW Territories in Canada's brutal north.
Each year since 2004, the HI-USA Portland Hawthorne Hostel has hosted a unique celebration of all things bicycles with our Bike-In Movie event. It brings together travelers staying in our hostel with local bicycle enthusiasts, families, and members of the neighborhood. At the Hawthorne Hostel we support bicycle travel as a fellow aid for independent travelers to sustainably venture forth and connect with other communities.
This year's Bike-In Movie film is especially inspiring; showcasing humanity's triumph over nature and himself . This event is free and open to all. There will be a free bbq dinner with drink available thanks to generous donations from our sponsors. We are also excited to announce the local talent of "The Hot Club of Hawthorne" a gypsy swing band that will be here for your entertainment.
The Hawthorne Hostel is owned and operated by the HI-USA, a 501(c)(3) nonprofit organization, and is a part of a national and international network of hostels. Our mission is "to help all, especially the young, gain a greater understanding of the world and its people through hostelling." We are committed to sustainable business practices, and for over 25 years the 34 bed hostel has been offering unique, safe, clean, and fun lodging for over 3,500 domestic and international travelers annually.