From our sponsors: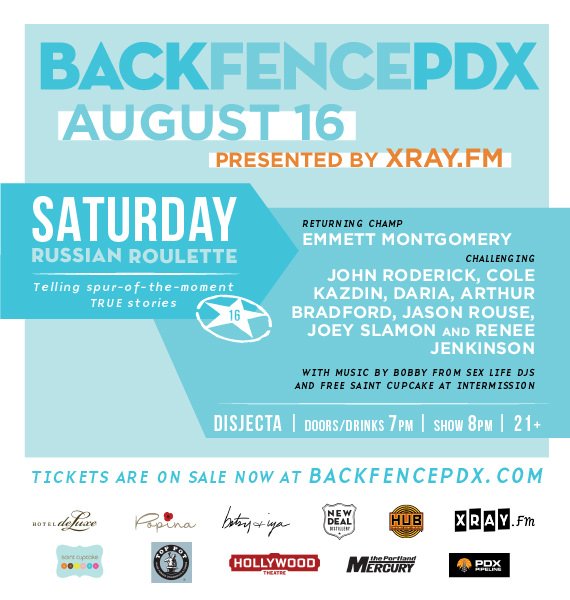 Back Fence PDX
August 16, 2014
7 Doors / 8 p.m. Show | $13 ADV / $16 Doors | 21+
Tickets: backfencepdx.com/
Disjecta
8371 N Interstate Ave, Portland, OR 97217
(503) 286-9449 | More info: disjecta.org
Russian Roulette begins with a full wheel of juicy story prompts. One of the 8 storytellers will be randomly drawn. They spin the giant Bunk Bar WHEEL to decide the prompt for their story. They can play or pass. If they pass, another teller can steal their prompt. Then the risky part… each storyteller has only 5 minutes to come up with a true 5-minute story based on that prompt! It's like we invented a new game called truth AND dare.
At the end of the night, the audience will select a winner who will receive 50 bucks and some other cool prizes, like bragging rights for life! And a lucky audience member will win prizes as well!
Storytellers for this round include:
The winner from our previous show EMMETT MONTGOMERY (Actor/Comedian, SEA) Along with:
JOHN RODERICK (Frontman for the band The Long Winters, SEA)
COLE KAZDIN (Moth Mainstage Storyteller/TV News Producer, LA)
ARTHUR BRADFORD (Emmy Nominated Director of 6 Days to Air: The Making of South Park, PDX)
JOEY SLAMON (Writer/Producer for Arrested Development, LA)
DARIA ELIUK (Radio Personality on 105.1 The Buzz, PDX)
JASON ROUSE (Writer for Live Wire!, PDX)
RENEE JENKINSON (Life/Fitness Coach and Two-Time past Russian Roulette Winner, PDX)
Hosted by B. FRAYN MASTERS & MINDY NETTIFEE
Music by BOBBY from Sex Life DJs