From our sponsors: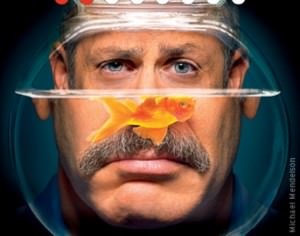 Mistakes Were Made
September 24-October 27, 2013
September 28 Opening Night
7:30 p.m. (+ 2 p.m. show Sundays) | $25-55 General / $20 Students
Tickets: artistsrep.org
Morrison Stage
1515 SW Morrison St., Portland, OR
More info: artistsrep.org
Felix is a NYC theatre producer about to blow a gasket.
Jabbing at the hold button as he negotiates with a playwright, a movie star, a deep-pockets funder and an agent, all while mediating a Middle East crisis (involving sheep and militant rebels), this non-stop, fast-talking chameleon is bound for no good.
With his overweight pet fish, Denise, as his only confidant and the weight of the world on his shoulders, the stage is set for a high-speed comedic train wreck of a tale.
Northwest Premiere • Off-Broadway Hit • Multiple Award-winning playwright & TV screenwriter
Date & Cast change!
Michael Mendelson will step in to play the lead role of Felix Artifex, as Todd Van Voris must leave the production due to a family emergency. Artistic Director Dámaso Rodriguez will now direct Mendelson and guide the show to opening as the production's Associate Director. Originally slated to begin preview performances next Tuesday, September 17, the run dates for Mistakes Were Made will now be pushed back one week.
Preview performances will begin September 24, the play will open on September 28 and close October 27.
————————–
Do you have tickets to a performance of Mistakes Were Made during the first week of the show, September 17 – September 22?
No problem, we'll work it out!
The Box Office will give you a call in the next couple days to see what works best for you. Or, if you'd like to contact us, you are welcome to do that with an email to boxoffice@artistsrep.org or with a phone call to 503.241.1278. The Box Office will cheerfully and efficiently reissue your tickets. We have extra people on hand to sort this out and we will do our very best to accommodate you.