From our sponsors: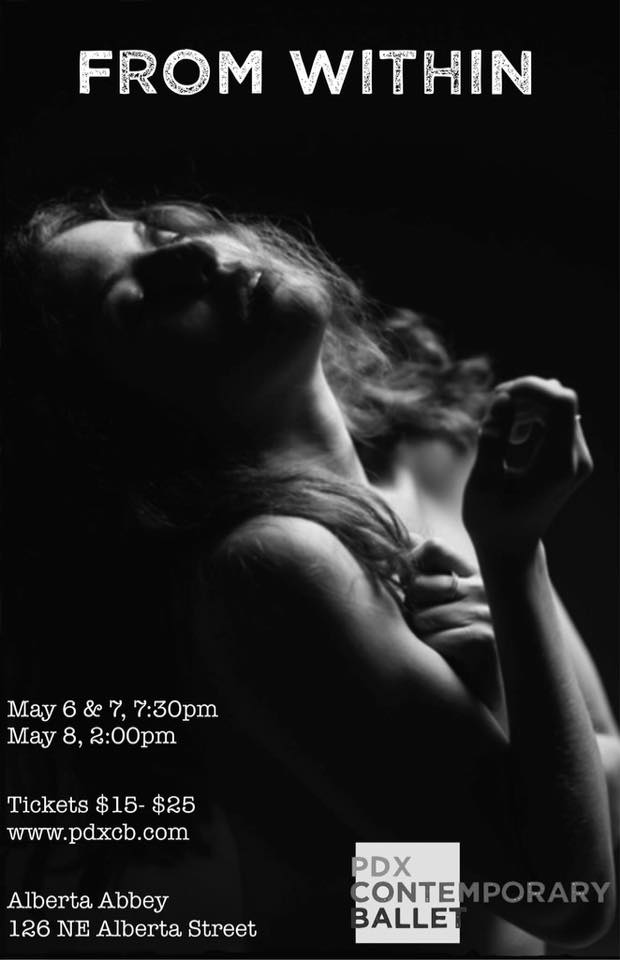 "From Within"
May 6-8, 2016
May 6th at 7:30 PM
May 7th at 7:30 PM
May 8th at 2:00 PM
$15-$25
Tickets: app.arts-people.com
At The Alberta Abbey Main Auditorium
126 NE Alberta St., Portland, OR
"Ask yourself in the stillest hour of your night: Must I dance? Delve deep into yourself for an answer. And if this should be affirmative, if you meet this earnest question with a strong and simple "I must," then build your life according to this necessity." – Adapted from Letters to a Young Poet by Rainer Maria Rilke
PDX Contemporary Ballet called on the experience of its own company dancers for their next performance. Rather than being assigned a theme or strict guidelines for their pieces, company members were given complete freedom to search within themselves and create works they could call their own. Hence "From Within" was born – a show where the audience can expect to experience a multitude of emotions, as well as gather a deeper understanding of the person behind the dance.
Music selections run the gamut from Benjamin Britten cello solos – performed live by Northwest Piano Trio's Hannah Hillebrand – to excerpts of work by Portland violinist and composer Kenji Bunch, to a soundscape of samples from George Harrison, XXYYXX, and Odesza.
"From Within" showcases the technical versatility, style, and talent of the PDX CB dancers, yet gives their individual personalities an opportunity to shine.