From website: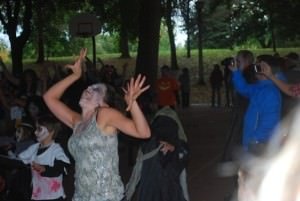 Thrill the World Portland 2015 Dance Practice
2-4 p.m., Sunday Afternoons Starting September 27, 2015
6-8 p.m. Friday Afternoons Starting October 2, 2015
Free | More info: thrillportland.wordpress.com
Fremont United Methodist Church
2620 NE Fremont St
Join us for the ninth annual Thrill the World Portland!
We'll be dancing October 24th, Saturday, location tbd, at 3pm.
We're offering you practices on Sundays afternoons, from 2-4, beginning on 27th, and Fridays, 6-8 pm, beginning October 2nd. All practices will be at Fremont UMC, 2620 NE Fremont St in Portland (enter on the east side of the building).
You can attend any # of practices – we'll teach you the dance in full each time. You can also look for instructional videos on youtube under user name INESSENS – there are 40 in all.
Here's what we have lined up for practices, leading up to TTW on October 24th:
October 16, practice from 6-8 at Fremont UMC, 2620 NE Fremont St.
October 17: ZombieCon takes place, and folks are invited to a practice/photo session in the afternoon! Meet under the Burnside Bridge near Saturday Market by 5:30 pm, and we'll take you to a spot very nearby for practice. Here's the schedule:
5:30 to 6:30

TTW Practice)

6:40 to 6:50

Stumptown Events Zombies (stop frame photo opp doing 10 to 15 dance Moves (in a grid) with TTW members as models in the front of the class)

7:00 to 7:30

TTW Practice continuation.
TTW members are invited to Dixie Tavern from 2:00 to 5:30 for makeup from makeup artists who are working for tips. TTW members are also invited and welcome to join our Zombie Event for the whole day.
October 18: practice from 2-4 at Fremont UMC, 2620 NE Fremont St.
October 20: We'll have a practice at Ankeny Alley downtown, beginning at 4 pm.
October 23: practice from 6-8 at Fremont UMC, 2620 NE Fremont St.
Saturday, October 24th:
We're working on scheduling a practice at the place we're dancing – which is 2nd Avenue downtown, from Burnside to the other side (south side) of the Ankeny Alley/entrance toSaturday Market. I'll let you know how that shapes up. We'd love to have everyone on hand, checked in, and lined up by 2:45 pm – please plan for that! We hope to have zombie make-up folks on hand, too; will let you know. We dance at 3 pm…. in the streets! I'll write the day-of schedule out more clearly in an email, in a few days.
All practices are free to the public. We have four different instructors this year, so you're able to experience a few different styles of learning the dance. [We may have a day-of-the-dance practice, as well.]
For more information, contact us at ttwpdx@gmail.com or join us on facebook.
———————————————
Related Portland Events & Info
———————————————
FREE PORTLAND: We give out 100s of $$$ in free tickets every week including to many of the top music and art venues in Portland. Join our newsletter if you like free stuff!
———————————————
Our new Portland Events App for PDX Pipeline is now available for iPhones, Android phones and iPads!
Now, you can have all of the great Portland events from our website in the palm of your hand when you're out on the town.
–————————
———————————————