From our sponsors: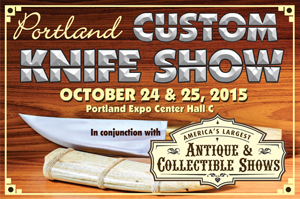 Portland Custom Knife Show
October 24 & 25, 2015
More info: christinepalmer.net
Portland Expo Center
2060 N Marine Dr, Portland, OR 97217
(503) 736-5200
The Knife Show will be held as part of America's Largest Antique & Collectible Show, a 34 year old event that has a built in audience. We believe that the category of custom and antique knives and swords is very compatible with the existing antique show buyers since many of our attendees are at the show looking for militaria, vintage weapons, Western Americana, vintage gambling, slot machines, swords and knives.
The Antique Show is in Halls D & E and the Portland Knife Show will be in Hall C, giving it its own separate hall. In addition to riding on the Antique Show's extensive advertising campaign, which includes print, broadcast, digital, social media, email and direct mail, the Knife Show will have its own budget, enabling us to advertise in Blade Magazine and Tactical Knives, among other knife related publications. The Antique Show draws customers from about 20 states and having the Knife Show in Hall C has been well received by the Antique dealers and customers.