From our sponsors: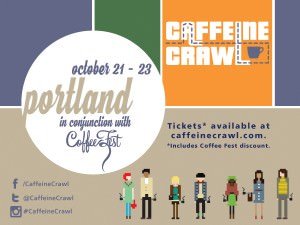 Caffeine Crawl Portland
October 21-23, 2015
Wed, 21st – 3:30pm to 6:30pm
Thurs, 22nd – 9:00am to 6:30pm
Fri, 23rd – 8:30am to Noon
$23-$27
More info: caffeinecrawl.com
Join us for the caffeinated adventure of the year as we tour 28 of Portland's best coffee, tea and chocolate shops on Caffeine Crawl Portland 2015!
11 tours with multiple time and transportation options mean there's a route for everyone, and we'll help you kick off the weekend on a high note before you head to Coffee Fest Portland with your 50% Caffeine Crawl discount!
Grab your travel mug and get your tickets at www.caffeinecrawl.com.