From our sponsors: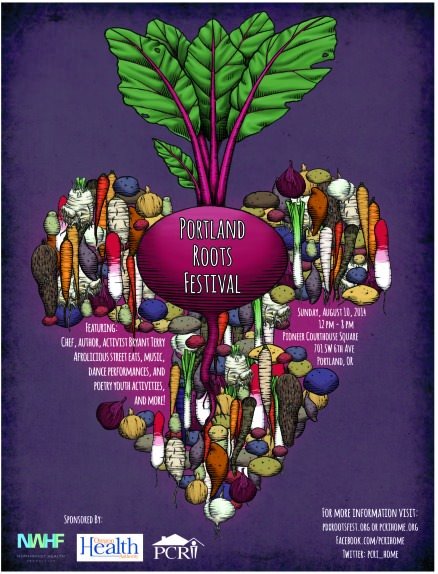 2014 Portland Roots Festival
August 10, 2014
Noon – 8 p.m. | Free | All Ages
More info: pdxrootsfest.org

Pioneer Courthouse Square
701 SW 6th Avenue, Portland, OR 97204
PCRI is proud to present the 2nd Annual Portland Roots Festival. Once again, we are coming together to promote healthy living through nutrition and exercise by tapping into the rich and ancient sustainable food practices of the African people. We will highlight the different yet similar avenues these cultures took through celebrating the food practices of African-American, Afro-Caribbean, Afro- Latin, and African Diaspora populations of Portland, Oregon.
The celebration will feature some of Portland's tastiest Afro-food vendors, a variety of fun and educational health-related activities for the whole family, and plentiful information from local health based organizations. Our residents will be there to share their healthy food access journey through community gardening, nutrition education, senior food bank, and youth summer health camp.
We are excited to have you and your organization participate in the event and help PCRI continue enriching our community through healthy living and cultural empowerment . The event will feature local artists and performers, a key-note speaker, African, African-American, Afro- Latin and Afro-Caribbean food vendors, local non-profits, and micro-entrepreneurs. This event is free and family friendly and we invite you to be a part of it.