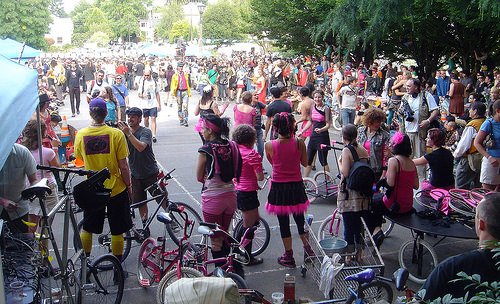 Portland's gigantic annual bike festival Pedalpalooza kicks off Thursday, June 5th and runs through June 28! There are currently more than 265 events on the website. We went through and found ones that look to be good, well attended, or should be interesting.
MOBILE APP: You can access nearly every Pedalpalooza event while you are on the go with our iPhone/Android app as well!
On the twitter? Follow @pdxbikes and the #pdxbikes tag. Also follow @pedalpalooza and remember to check out Jonathan's GREAT coverage on BikePortland.org
—————
Related Portland Events and Info:
———————————–
Portland Bike/ Pedalpalooza Picks | Thursday, June 26, 2014
————
VOLUNTEER FOR BEER! , Overlook Park, N Interstate Ave and Fremont St (Softball diamond infield SW corner of the park.), 10:45am – 12:45pm, Each shift is 2 hours long and continues until 9:30PM (Except Sunday), June 26 – 29
For the 9th year in a row, we'll be at the North American Organic Brewers Festival at Overlook Park in N. Portland watching over bikes put in our care by event patrons.
This year, the event runs from June 26-29, which leads to 4 days of beer, fun, beer, music, beer, camaraderie, beer, bicycles, and oh yes, beer. Did I mention beer?? Did I mention Organic Beer???
Well step right up because for every 2 hour shift, you get a mug and 12 tokens! That's enough for 3 full ones, or 12 samples of North America's finest organic brews!! Shifts run every 2 hours until 9:30PM
North American Organic Brewers Festival, balhallard at gmail daht comm, Signup Genius NAOBF Bike Parking
————
EXPLORE THE GREEN BIKE LOOP , Go by Bike, 3303 SW Bond (Valet bike parking at the base of the Aerial Tram), 1:00pm – 3:00pm
Downtown needs more north-south bike routes. The Tilikum bridge needs a connection to PSU. Riders thru the Lloyd District need an easier way to cross I-5 and I-84. The Green Loop plan could solve these problems, if it moves from an idea into reality. Explore from the west end of the bridge, along the Park Blocks, over the Broadway bridge and thru the Lloyd district and Eastside district to OMSI. We will learn about easy changes that could be made now to make this a great bike route, and the long-term needs to make the whole plan work.
Joseph & Sean, Green Bike Loop
————
JOY OF SECTS 2: JAUNTY HAT EDITION 21+, 24th and Meatballs, 2329 NE Glisan St, Portland, OR 97232 , 2:00pm
In this 2nd JOS ride this June, Bike Temple brings you the irreverent side of religion. Silly cults, parodies, religious icons, and furniture found in unlikely places. Not a loop. No helmets required unless it's a colander! Check the FB page for more details! And never expect the Spanish Inquisition!
Halleylujah, tinyurl.com/o3wx3nd
————
FOOD CARTS 4 CHARITY -STEVEN & TIFFANY! , Holladay Park, NE Multnomah betw NE 11th & 13th , 5:00pm
OOPS! Originally this ride went to Last Thursday but there is NO WAY I'm missing the Powell's Books Signing Party for my Great Food Cart Friends Steven Shomler & Tiffany Harelik.
There will be copies available of Portland Food Cart Stories by Steven Shomler and Edition 2 of Trailer Food Diaries Cookbook by Tiffany Harelik.
The plan is to head to a few Food Carts for eats (BRING MONEY FOR EATS) then head over to Powell's Books for Steven & Tiffany's 1st time signing their books at POWELL'S BOOKS!
After the book signing there may be a ride to a few Food Carts for dinner.
Scott Batchelar , sbphotos at mac daht comm, www.fc4c.org, Follow our twitters at fc4charity at FC4CPDX, 971-207-5523
————
B4HPDX FREE VOLUNTEER MECHANICS CLASS , Bikes For Humanity PDX, 4038 SE Brooklyn Street , 6:00pm – 9:00pm, Every Thursday
Bikes For Humanity PDX (B4HPDX) Thursdays Free Volunteer Mechanics Class
8-week professionally instructed bicycle mechanics curriculum trains volunteers complete overhaul and tune-up procedures.
Free to all B4HPDX volunteers. (We invite students to volunteer 10 hours with us for receiving this 24-hr curriculum.)
Thursdays 6-9pm. (Except holidays. Check b4hpdx.org Google Calendar for holiday schedule.)
Students can practice on own bikes during hands-on portion of lesson.
*b4hpdx.org is fiscally sponsored by ImpactNW, a 501(c)3 public charity.
Steven, b4hpdx at gmail daht comm, Bikes For Humanity PDX
————
BROKEN BICYCLES TOM WAITS RIDE 21+, Billy Ray's Dive Bar, 2216 NE Martin Luther King Jr Blvd (2216 NE Martin Luther King Jr Blvd), 6:00pm – 12:00am
A slow boozy ride through Portland's dive bars, while celebrating the elusive spirit of Tom Waits.
The Human Skeleton, thehumanskeleton at yahoo daht comm, tiny.cc/twaits
————
TRANSPORT YOUR ACTIVISM , Organics To You, 606 SE Madison , 6:00pm – 8:00pm
Join AROW to ride Portland's bikeways to see what we want to change! We'll have maps & plans, contact info for complaints & suggestions.
This is a democratic ride, if there's some place you want to highlight and get letters out, contact me before the ride or just come and we can work it in.
Bring tape measures, radar guns, graph paper, smart phones, iPads, etc.
It'll be wonky. I'll bring toys, tools and documents.
Meet for coffee or beer at the end point.
Ted Buehler, ted101 at gmail daht comm, bikeportland.org/2010/06/23/ride-provides-info-and-inspiration-for-transportation-activism-35561
————
THE GINGER RIDE (6TH ANNUAL!) , White Owl Social Club, 1305 SE 8th Ave , 6:30pm, Meet at 6:30 PM, we ride at 7 PM!
Bring your bike, your red hairs, your red wig (if you're not a natural), and let us ride red! PS it's free!
The Ginger Rider, https://www.facebook.com/TheGingerRide
————
YOUNG MEDITATORS RIDE!, Col. Summers Park, SE 20th and Belmont , 6:45pm
Come join folks from the Shambala Young Meditators Group! We'll meet at Colonel Summers Park, ride to some beautiful nature, and break to enjoy a short meditation there. If you've never meditated, do not fear! We'll have some basic guidance to get you started. And, then, because we're young and hip (unlike old meditators) we'll bike to another scenic destination, where we can bask in sunset and happy hour together (bring snackies & drinks to enjoy and share!) Ride will be ~5 miles, on the East Side, and friendly to all! (Young is a definition of spirit, not age!)P.s.Bring something to sit on!
Kelly Aldinger, kelly.aldinger at gmail daht comm, Portland Young Meditators
————
UNICYCLES FOR NOOBS , Alberta Park Bike Polo Court, NE 22nd Ave and Killingsworth St. , 7:00pm
Are you uni-curious? Don't want to deal with TWO wheels, a chain, derailleur, gears, or handlebars? Want to learn to get from Point A to Point B, on one wheel, without doing a faceplant? Then please join us for the Nth annual Unis for Noobs event.
We'll supply a plethora of unicycles and support for anyone, young or old, who wants to learn to ride
You'll need to bring your own gloves, pads, and a helmet. We do not assume any responsibility for anything stupid that you do.
This is a family-friendly event put on by Portland's Unicycle Bastards. If you don't like us, then don't go.
Hamilton H. Orr, ubtumblr at gmail daht comm
————
THAT 70'S RIDE , Salmon Street Fountain, SW Salmon St and Naito Pkwy, 7:00pm – 9:00pm
It's the 70's again hip hugger and bell bottom, and gumby shoes.
We will be cruising the water front.
Digit Man! this will be one groovy ride!
Keith & Danny Partridge
————
TOUR OF PORTLAND PART TOO…MMR VERSION 21+, Suki's Bar and Grill, 2401 SW 4th Ave (In the parking lot.), 9:30pm – 12:30am, Roughly 2-3 hours depending on whatever happens.
Last years Tour of Portland went swimmingly. This ride will mimic, The Most Infamous and Contested MMR, of all time! It will be almost, exactly, the same planned route down to figure 8's and tiny gates. Except, among other things, the end point will be at a typical merriment spot on the East side of the river. This is to appease those that despised the end of, The Most Infamous and Contested MMR, of all time! Ride length is roughly 12 reasonably easy miles. A bit technical in places. BYO intoxicants, lights, and firewood.
Steven Michael
————
————————————
Our new Portland Events App for PDX Pipeline is now available for iPhones, Android phones and iPads!
Now, you can have all of the great Portland bike events from our website in the palm of your hand when you're out on the town.
————————————