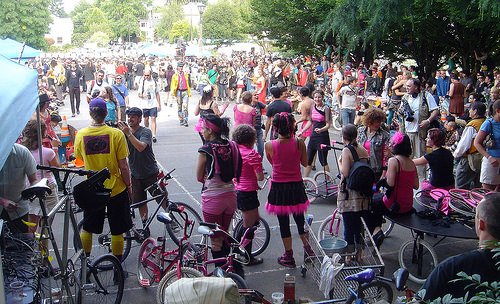 Portland's gigantic annual bike festival Pedalpalooza kicks off Thursday, June 5th and runs through June 28! There are currently more than 265 events on the website. We went through and found ones that look to be good, well attended, or should be interesting.
MOBILE APP: You can access nearly every Pedalpalooza event while you are on the go with our iPhone/Android app as well!
On the twitter? Follow @pdxbikes and the #pdxbikes tag. Also follow @pedalpalooza and remember to check out Jonathan's GREAT coverage on BikePortland.org
—————
Related Portland Events and Info:
———————————–
Portland Bike/ Pedalpalooza Picks | Saturday, June 28, 2014
————
HISTORY OF HOUSING DISCRIMINATION RIDE , Community Cycling Center Offices, 1805 NE 2nd Ave , 9:00am – 2:00pm, Presentation at the beginning, discussion at the end
Ever wonder why is Portland the whitest large city in the US? Portland and Oregon have a long, ugly history of housing discrimination and segregation, and despite the Fair Housing Act of '68, we still have work to do. Join the Community Cycling Center, the Community Alliance of Tenants, OPAL Environmental Justice Oregon and the Fair Housing Council of Oregon to learn and discuss how the legacies of these policies and practices still shape our communities, neighborhoods and attitudes. Only 25 spots, RSVP required, ride is NOT a loop, and free lunch will be provided!
Justin Buri, Mychal Tettah, Diane Hess, Chiquita Rollins And Vivian Satterfield, justin at oregoncat daht oh are gee
————
BIKES FOR HUMANITY VOLUNTEER REPAIR CLINICS , B4HPDX Store, 3354 SE Powell Blvd. Portland Oregon , 10:00am – 2:00pm, Every Saturday
Bikes For Humanity PDX(B4HPDX) is a charitable service project aimed at providing our community affordable refurbished bikes, repair classes & workshop space.
Volunteers meet M/Th 3-6pm, Tu/Wed 7-10pm, Fri 1-5pm, and Sat 10am-2pm to refurbish donated bikes for recirculation within PDX community. Every 2 hours volunteered earns 1 hour free use of pro shop for your own project.
Financial aid and earn-a-bike programs available to help everyone afford a bike.
See full details at www.b4hpdx.org
*b4hpdx.org is fiscally sponsored by ImpactNW, a 501(c)3 public charity.
Steven, b4hpdx at gmail daht comm, Bikes For Humanity PDX
————
EBIKE RIDE WITH MARTINA , Ebike store, N 809 Rosa Parks Way (Parking Lot), 10:00am, Our ride will leave at 10:15
Let's explore North Portland by ebike: Ride on calm side street, the Peninsual Crossing Trail, see Bybee Lake… we probably stop for some coffee on the way and have a sag wagon on call. Ebikes may be rented at the ebike store!
Martina Fahrner, Martina at pobox daht comm, www.ebikestore.com, 971-263-0475
————
PARKLANDIA! A BIKE TOUR OF PORTLAND PARKS , Portland Art Museum, 1219 SW Park Ave (Out in front), 10:30am – 1:30pm
Parklandia: A Portland Bike Tour Saturday, June 28, 10:30AM-12:30PM
Ride Departs from The Portland Art Museum
Members: $20/ General: $25 (Includes admission to PAM for the weekend, a $25 value)
Join Portland Art Museum and Know Your City for a leisurely bike tour of some of our favorite parks and public spaces. Our approximately 10-mile loop will include both well-known and hidden gems of Portland, and uncover some of our city's rich park system. Stops will include guest speakers at locations such as Penninsula Park Rose Garden, Laurelhurst Park and more!
Know Your City, ask at knowyourcity daht oh are gee, www.knowyourcity.org, 971-717-7307
————
VOLUNTEER FOR BEER! , Overlook Park, N Interstate Ave and Fremont St (Softball diamond infield SW corner of the park.), 10:45am – 12:45pm, Each shift is 2 hours long and continues until 9:30PM (Except Sunday), June 26 – 29
For the 9th year in a row, we'll be at the North American Organic Brewers Festival at Overlook Park in N. Portland watching over bikes put in our care by event patrons.
This year, the event runs from June 26-29, which leads to 4 days of beer, fun, beer, music, beer, camaraderie, beer, bicycles, and oh yes, beer. Did I mention beer?? Did I mention Organic Beer???
Well step right up because for every 2 hour shift, you get a mug and 12 tokens! That's enough for 3 full ones, or 12 samples of North America's finest organic brews!!
North American Organic Brewers Festival, balhallard at gmail daht comm, Signup Genius NAOBF Bike Parking
————
LOVING OREGON SUMMER: HELVETIA BIKE RIDE , Orenco MAX Station, NW 231st Ave and NE Alder St, Hillsboro (Orenco MAX Station), 11:30am – 2:30pm
Hailed as one of Oregon's irreplaceable high-value farming areas, Helvetia is also mighty scenic. Farmers and advocates there have repeatedly engaged in the land use process to protect prime soils from attempted conversions to landfills, freeways, and subdivisions. Join us as we ride by scenic farmland, transit-oriented development, and explore the edge of the Urban Growth Boundary. (And learn what a UGB is and why you love it.)
The ride is a 15-mile loop through Helvatia, including a stop at the Helvatia Tavern. Bring money for beer (and, if you want, a legendary burger).
1000 Friends Of Oregon & Amanda Caffall, amanda at friends daht oh are gee, 1000 Friends of Oregon, 503-497-1000 x137
————
SUNNY DAY NEKKID RIDE 21+, Coe Circle, Joan of Arc Statue, 3900 NE Glisan St (Coe Circle, Joan of Arc Statue, 3900 NE Glisan @ Cesar Chavez), 1:00pm – 3:30pm
About 200 times the fun of the night time WNBR, since it's 200 times smaller and it happens unannounced to passers-by and it's in the daytime, this legal naked protest ride against fossil fuels is a gentle tour of all 5 quadrants with total nudity encouraged (OK, helmet/shoes/body paint maybe — please be somewhat nude)! It's like being a casting director where the citizens of Portland are trying out for the part of pleasantly freaked-out neighbors, and everyone gets a role. Leaves Joan of Arc (NE Glisan [at] 39th/Cesar Chavez) 1:00pm, ends at The Bike Fair, Col. Summers Park.
Fluxgeo, fluxgeo at yahoo daht comm, 971-207-5804
————
THE PINK PARADE , Big Pink, SW Oak St and 6th Ave , 1:00pm – 4:00pm
Join us for a celebration of bicycles, the color pink, and rosé wines from Oregon and beyond. Dress up in your finest pink clothing and come with a few bucks in your pocket if you plan to partake in the tastings! Locations and route TBD, but we're planning two hosted tastings and the ride will end near the bike fair.
All ages welcome but you must be 21 to partake in the wine part of the ride.
Brian Davis, brian at lancasterengineering daht comm
————
THE BIKE FAIR , Col. Summers Park, SE 20th and Belmont , 2:00pm – 7:00pm
The annual Multnomah County Bike Fair returns! Vendors, beer, entertainment, and plenty of bike events. Details to come…
Interested in volunteering, performing, or becoming a vendor? Send an email to thirtysevenart[at]hotmail.com
Agent Scout
————
NWTA – RIDE TO YOUR RIDE , Cartlandia, 8145 SE 82nd St., Portland, OR , 2:00pm, 2:30pm we ride
NWTA – Ride to your ride: Join the Northwest Trail Alliance for a trail ride from your front door. That's right, ride your mountain bike to where you ride your mountain bike. Ride meets at 2pm at Cartlandia for a ride at Powell Butte. Leave your car at home, but be sure to bring your mountain bike, helmet, lights for the ride home, water, and a lock/money if you want to enjoy food/beverage afterward. This no drop ride is a loop, but is a great way to meet new riding buddies. All abilities and ages welcome.
Northwest Trail Alliance, patrickl at nw_trail daht oh are gee, nw-trail.org
————
NWTA FAMILY MTN BIKE NIGHT RIDE, BONFIRE, AND CAMP , EasyCLIMB Trail Cascade Locks, https://www.google.com/maps/@45.6852998,-121.853669,17z (Through Town, Left of Forest Lane, Left on Industrial Way to the End), 6:00pm – 10:00pm, Get there when you can, it is a 3 mile loop around the Fire Pit.
Come on out the Cascade Locks to the NWTA easyCLIMB trail for a family night of mtn bike riding, starlight bonfire, and campout. Come for any and all! Free.
  Family/beginner friendly trail system along the Columbia river. Bring Head Lamps or lights for night ride.
  We plan to be there with Camas Bikes by 6pm.
  Skills course for the kids.
  Bonfire starts at dark to cook hot dogs/brats and marshmallows over.
  No camping facilities, no water, no bathrooms, but plenty of places to pitch a tent or park the RV, so plan accordingly.
Home of Take A Kid Mtn Bike Day October 4th
Northwest Trail Alliance, andyc at nw-trail daht oh are gee, www.dimwitswithbritelites.org
————
LOUD'N'LIT RIDE , Col. Summers Park, SE 20th and Belmont (post-bike fair party), 8:00pm – 4:00am, Meetup at 8, we ride at 9pm
Closing out Pedalpalooza with a bang fo sho. Flaming tall bike jousting tourney, fire performances, DJ's till the sun came up, and just in general more fun than anyone could shake a stick at. Get up in your loudest craziest costumes, bikes, bring your noise makers, get ready to raise some hell!
Tall Tour Crew
————
————————————
Our new Portland Events App for PDX Pipeline is now available for iPhones, Android phones and iPads!
Now, you can have all of the great Portland bike events from our website in the palm of your hand when you're out on the town.
————————————