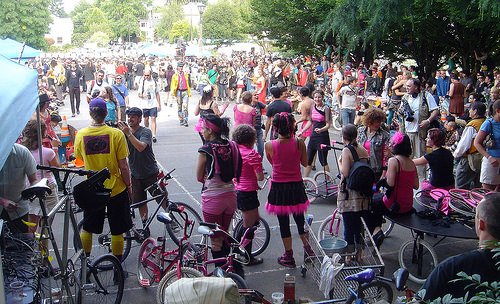 Portland's gigantic annual bike festival Pedalpalooza kicks off Thursday, June 5th and runs through June 28! There are currently more than 265 events on the website. We went through and found ones that look to be good, well attended, or should be interesting.
MOBILE APP: You can access nearly every Pedalpalooza event while you are on the go with our iPhone/Android app as well!
On the twitter? Follow @pdxbikes and the #pdxbikes tag. Also follow @pedalpalooza and remember to check out Jonathan's GREAT coverage on BikePortland.org
—————
Related Portland Events and Info:
———————————–
Portland Bike/ Pedalpalooza Picks | Friday, June 27, 2014
————
EARLY MORNING COFFEE & RIDE , Extracto Coffee, 2921 NE Killingsworth St , 6:00am – 8:30am, Meet at 6, ride at 6:30
Join me for early brew & breakfast nibbles, followed by a ride up and over some hills. Meet at 6, ride at 6:30. End at BonB around 8:30am. The best way to start your day!
Erinne, erinne.larissa at gmail daht comm
————
BREAKFAST ON THE BRIDGES , Hawthorne, Burnside, and Lower Steel Bridges , 7:00am – 9:00am
Stop for some coffee, treats, and camaraderie. Running late? We've got tardy slips! A Portland tradition since 2002.
Shift, bonb at lists.riseup daht nett, shift2bikes.org/wiki/bikefun:breakfast_on_the_bridges
————
VOLUNTEER FOR BEER! , Overlook Park, N Interstate Ave and Fremont St (Softball diamond infield SW corner of the park.), 10:45am – 12:45pm, Each shift is 2 hours long and continues until 9:30PM (Except Sunday), June 26 – 29
For the 9th year in a row, we'll be at the North American Organic Brewers Festival at Overlook Park in N. Portland watching over bikes put in our care by event patrons.
This year, the event runs from June 26-29, which leads to 4 days of beer, fun, beer, music, beer, camaraderie, beer, bicycles, and oh yes, beer. Did I mention beer?? Did I mention Organic Beer???
Well step right up because for every 2 hour shift, you get a mug and 12 tokens! That's enough for 3 full ones, or 12 samples of North America's finest organic brews!!
North American Organic Brewers Festival, balhallard at gmail daht comm, Signup Genius NAOBF Bike Parking
————
SAUVIE ISLAND ADVENTURE RIDE 21+, The Fields Neighborhood Park, 1099 NW Overton St, Portland, OR 97209 , 11:00am
Join us for an Adventurous Ride from NW Portland's Fields Neighborhood Park out to Collin's Beach on Sauvie's Island
The trip is approximately 25 miles one way.
In the way back we will stop off at a Bar for drinks
As you might guess – Clothing is optional.
Make sure to bring Sunscreen, a blanket and plenty of water.
Scott Batchelar , sbphotos at mac daht comm, 971-207-5523
————
TANK OF DOOM TOUR OF PDX OIL PROFITEERS, North Park Blocks, NW Park Ave and Couch St (We'll be close to the elephant–the one in the room.), 11:30am – 4:30pm, We leave the park blocks at 12 noon and return there between 4 and 5 PM.
Did you know that as the ice melts in the Arctic Sea and glaciers in West Antarctica slide into irreversible decline, there are many corporations still happy to drill away with business as usual, profiting from the pollution of drinking water, the fouling of the air, the trampling of the treaty rights of the indigenous peoples of North America, the destruction of regional ecosystems, and the fatal unravelling of the biosphere? You probably knew that. All the more reason to join the Tank of Doom as its specter haunts the NW Portland facilities of these profiteers. We'll go at a slow pace.
Portland Rising Tide, wkempferjr at gmail daht comm, Portland Rising Tide, 503-926-3867
————
CRITICAL MASS: PEOPLE, PLANET, PEACE OVER PROFIT , North Park Blocks, NW Park Ave and Couch St (Bronze Elephant), 5:30pm
Catastrophic climate change is already gripping our planet. But Portland is still clogged with cars, our rivers and rails are highways for fossil fuels, and our air continues to be poisoned by the worst polluters in the country.
We have no more chances. With our future at stake, we have no choice other than pedaling for People, Planet, and Peace over Profit.
Bring your bike.
PDX Bike Swarm And PDX Valkyries
————
GRANT PETERSEN RIDE , 3000 N Willamette Blvd (Meet at the dead madrona tree), 6:45pm – 9:45pm, We roll at 7. Bring lights to see the particles.
Do you like trusses? I never see them during the day, but at night I see particles in the beam of my headlight. Wool socks and Tevas would be appropriate. Same goes for flat pedals. Lugs are beautiful and strong. Shellac your cloth bar tape. Bells optional. Pace will be briskly casual. Bandannas recommended.
Andy Schmidt
————
THE SPROCKETTES RIDE , Peninsula Park (700 N Rosa Parks Way), 7:00pm
Join us in hot pink & black as we celebrate 10 Years of The Sprockettes. This special edition of our monthy ride will take participants through Sprockettes history in a fun and interactive way. Bring something to stencil on, a flower or "bling" for Kiki, and your dancing shoes. Expect OG faces, music, shenanigans, skits, and a few surprises!!! The route is mini-bike friendly though we'll move at an adult pace. Ride ends in SE.
The Sprockettes, sprockettes at gmail daht comm
————
RUN-D.M.C. VS. BEASTIE BOYS , North Bar, 5008 SE Division St (Meet across the street in one of the parking lots), 8:00pm
Calling all B-Boys & Fly-Girls!
Yes, yes y'all and we don't stop!
For our 3rd year, this time we're ENDING Pedalpalooza with a bang!
This is a Slow rockin' ride BUMPING favorite Run-DMC and Beastie Boys jams along with some Funky Fresh Old School Hip-Hop (think NYC early-mid 80s) plus a couple of G-Funk bangers thrown in for good measure as we roll around the "mean" streets of P-Town.
SLOW pace with occasional dancing stop(s).
R.I.P. Jam Master Jay (Jason Mizell) & MCA (Adam Yauch)
Break Dancers: BYO Cardboard
Bring Lights! Rock ADIDAS! Ride at own risk!
(Not a loop)
Diablo,
————
————————————
Our new Portland Events App for PDX Pipeline is now available for iPhones, Android phones and iPads!
Now, you can have all of the great Portland bike events from our website in the palm of your hand when you're out on the town.
————————————