From our sponsors: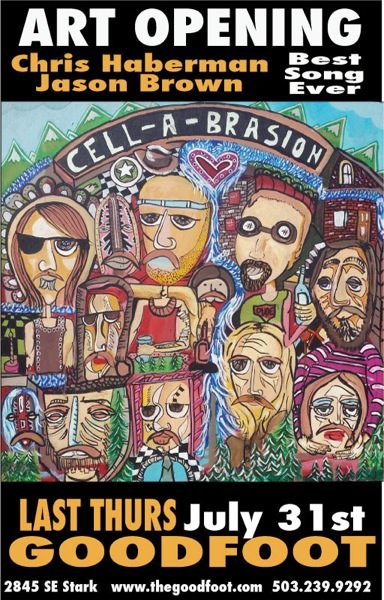 Last Thursday July Opening
July 31, 2014
5 p.m. | Free
More info: Facebook

The Goodfoot
2845 SE Stark St, Portland, OR 97214
(503) 239-9292 | More info: thegoodfoot.com
The Goodfoot will have an art opening Thurs July 31st from 5-12. The show will be up until Aug 26th. Show is titled "Best Song Ever" by artists Chris Haberman and resident artist and Goodfoot curator Jason Brown. Opening night will be a costume party also, come dressed as your favorite rock star!!!
This months artists Chris Haberman and Jason Brown team up for their annual show, at Goodfoot. They've taken "Best Song's Ever" over the years, and depicted them in painting form. They will have a mix of Collaborations and both of their own individual works.
Chris Haberman
Chris is a working artist and curator native to Portland, Oregon. All of his artwork is created from recycled objects, found material from the streets and alleyways of his hometown. A discarded cabinet door or table top quickly becomes the backdrop for an integrated puzzle-poem of figures and text, focusing on subjects like people, politics, the region, pop-culture, media, music, film and literature. Mayor Sam Adams has said that "Chris is the hardest working artist in Portland." Chris' first curatorship was a show for Adams in City Hall of Portland, Oregon, (Portland Pride, 2007).
Jason Brown
Jason was a prolific painter and long-time curator of The Goodfoot (since 2000). Brown writes, "Painting is my vessel of communication. Art becomes a social and personal dialectic for me aimed at resolving inner and public conflict while simultaneously celebrating humanity. Through irony, humor, bold and subtle imagery I convey my vision on to others. I place my characters in settings where the rooftops of society have been cut off, and their idiosyncrasies become their vulnerabilities. By utilizing perspective I place my characters into a realm that seems comfortable and inviting, but contains certain disjointed qualities.
My characters explode out of their setting while remaining stoic, as though they are unaffected by their environment. (A petty thief that steals the tip of a waitress left on the bar by a previous patron – the meat market patrons with their robust, crazed egos manipulating the masses with their decedent carnage). Some have suggested that my work has a masculine perspective, but I certainly do not represent or embody the masculine viewpoint. Ultimately, I paint individuals transfixed by their struggle, at times framing the daily lives of "Martyred Saints", "Super humans" that have routines and transgressions just as anyone else.
(The musician who forgets he is mortal for a brief second and the lightning bolt of god touches his forehead, knighting this saint a forbearer of humanity – the husband who goes into a strip bar for directions, and is coincidentally spotted by his wife.) I am intrigued by the situational moments that could be explained, but the individual finds himself trapped by the circumstances. Through observation and perspective I make an earnest attempt at painting the honesty of humanity."