From our sponsors: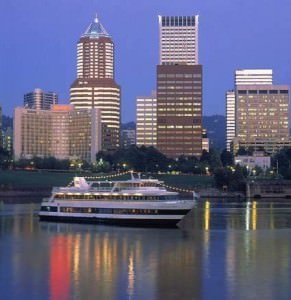 Spend Independence Day w/ Portland Spirit
July 4, 2014
$46 – $99
More info: portlandspirit.com
This Independence Day join the Portland Spirit for a spectacular view of riverside fireworks in downtown Portland aboard the Portland Spirit or aboard the Columbia Gorge Sternwheeler in Cascade Locks with viewing of the Port of Cascade Locks fireworks.
Cruise aboard the Portland Spirit and enjoy a relaxing dinner cruise followed by the annual downtown Portland fireworks display viewed from the best possible location – riverside! Celebrate the 4th with a scenic cruise on the Willamette River, Northwest cuisine and fireworks display. Or, cruise aboard the Columbia Gorge Sternwheeler for a two hour cruise and majestic fireworks display in the heart of the Gorge – Marine Park – Cascade Locks, Oregon.
Schedule – Friday, July 4th
Portland Spirit – Downtown Portland
Boarding at 7:00pm and cruising 7:30 – 10:30pm
Boarding at Salmon Springs in Downtown Portland
Includes: Cruise, plated dinner with choice of entree, house salad, house dessert, bread, hot tea, coffee, entertainment, service gratuities and fireworks.
$99 per person*
Columbia Gorge Sternwheeler – Cascade Locks, OR
Boarding at 8:30pm and cruising 9pm – 11pm
Boarding in Marine Park in Cascade Locks, Oregon
Includes: 2 hour cruise and fireworks
$46 per person*
*Prices do not include landing fees and any other applicable charges.
Vessel and Company Information:
The Portland Spirit is a 150′ yacht with three public decks, two of which are enclosed and climate controlled. We have seating for 340 guests on the two interior decks for a plated meal cruise and capacity for 450 guests for a reception. The Portland Spirit features delicious Northwest cuisine prepared to order in our on-board galley, several full service bars with a vast wine selection, grand pianos with live performers (don't forget our singing wait staff), a ship-wide sound system, and a marble dance floor.
The Sternwheeler is an authentic 499-passenger Sternwheeler reminiscent of the ships that cruised the Columbia Gorge in the 1800's. The Sternwheeler is a replica of the historic Bailey Gatzert, which operated on the Columbia from the 1890's to the 1920's. The Sternwheeler provides passengers with panoramic views and fresh northwest cuisine, prepared fresh in its onboard galley.
The vessels and crew of Portland Spirit Cruises & Events form the premier fleet of dinner ships in the Northwest. They offer public lunch, brunch, dinner and sightseeing cruises as well as specialty cruises throughout the year. There are 5 boats in the fleet including the Portland Spirit, Willamette Star, Crystal Dolphin, Explorer Jet Boat and Columbia Gorge Sternwheeler (normally out of Cascade Locks, OR). Portland Spirit also operates three land venues; the Terrace on Thunder Island and Gorge Pavilion in Cascade Locks, along with the Locks Waterfront Grill.